Exchange student nets female athlete award after stellar year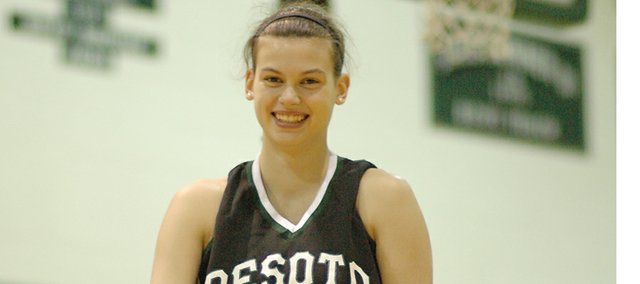 She came, she saw and although she may not have conquered, she performed at the highest level.
Junior Barbara Hartz, a 5 feet, 11 inch foreign exchange student from Nuremberg, Germany, is the recipient of The De Soto Explorer's 2008 Female Athlete of the Year.
"I'm a little surprised to get something like that because I didn't do that much during that year," Hartz said, "but it really makes me love and miss that place even more."
Hartz excelled in basketball and track and field, although a track and field injury - strained shin splints - about three meets into the year meant she'd perform the rest of the year in discomfort and curtailed her workout routine. She also participated in volleyball.
But it was in basketball, the sport Hartz wants to play at a higher level, that she was most dominating.
"That's the first kid that's that tall and that quick that I've ever coached," De Soto coach Dwight Spencer said. "We've got kids with that kind of skill, and we've got kids with that kind of height, and we've got kids with that kind of quickness but we don't have kids that put all three of those things together."
At the start of the year, one might think that her height and wingspan would make her a force on the volleyball court.
However, Hartz's minimal experience playing limited her contribution although it helped make the team better in practice, especially blocking against the hitters.
Her focus then turned towards basketball, her passion. A 5-11 presence was something De Soto lacked before her arrival, and something Spencer couldn't ignore. The next tallest players on the team were Katie Williams and Lexi Irons, a sophomore and a freshman, respectively.
Hartz excelled at the point guard position in Germany, but Spencer could not ignore her height, especially on the Wildcat roster. Spencer, also her host dad, used her as a post player except in situations where it created matchup problems for opposing teams, like Eudora late in the year.
Hartz averaged 7 points, 5.8 rebounds and 2.1 assists per game while playing out of position and assuming the role of the rock on a team that had a single senior.
"She never put herself ahead of the team," Spencer said. "I know it (playing out of position) frustrated her at times, but never did she say anything or worry about it. She just played hard."
Once spring hit, Hartz went out for track, a sport on which her family back in Germany puts the most emphasis. She may have been burnt out on track before coming to the United States, but once here - and especially given the chance to compete in events that contributed to a team total - she thrived.
"Watching her from the beginning, you knew she knew what she was doing," De Soto track coach Brian Dinkel said. "I really didn't do anything to help Barb out, I was just kind of there.
"I wrote the workouts and she did the workouts, but everything else, as far as technique, she knew what to do."
In the first meet, at Baldwin, she won the high jump and the 100 hurdles. Two weeks later she took first in the high jump at Mill Valley, jumping 5-02.
But it wasn't only in capturing top-three finishes that helped the team out, it was her willingness to do whatever was asked of her.
Besides the two events mentioned previously, she competed in the 400, hurdle events, relay events and even the pole vault.
"Barbara is very athletic. We could put her in about anything," Dinkel said.
Then, the season took a turn for the worst for Hartz. She developed shin splint problems right around the KT Woodman meet that hampered her throughout the remainder of the year.
The worst, Dinkel said, was probably at De Soto's home meet. Her 100 hurdles time was around three seconds slower than at other meets earlier in the year. Then she ran a leg in the 1,600-meter relay and was nearly in tears afterwards. She was never able to recover, although she did qualify for state in the high jump.
"She would have done a lot better had her shins not started bothering her," Dinkel said. "We just had to rest her and ice her. It wasn't like she could work on getting any stronger, it was just working on getting healthy and she didn't heal as fast as we were hoping but she had glimpses of being able to still jump high every now and then."
After her stellar 2007-2008 year, Hartz has now returned to Germany where she is concentrating on basketball and the Abitur, the highest degree you can get in Germany. After completion of that she'll try to play in the second Bundesliga, the second division of premiere basketball in Germany and Austria. If offered, she plans to return to America and play basketball while attending an American college.
Regardless, she accomplished enough this year to garner the award, and enjoyed her time doing so.
"Playing in De Soto was a real fun time. I loved it there most because of the people," she said. "It was the best year of my life until now. It was pretty incredible, I enjoyed every single day of it."
More like this story