De Soto resident Grizzle receives Gatorade award for 2008 season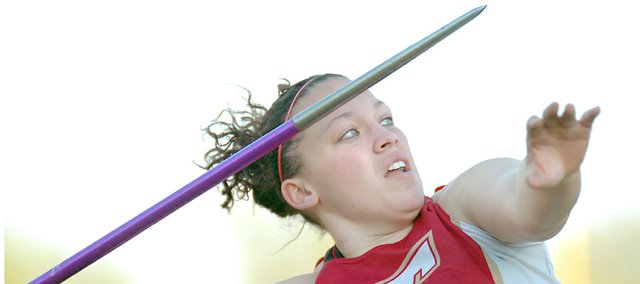 A state champion twice over, Roxi Grizzle is so adept at throwing the javelin you almost expect one of her heaves to keep on flying through the spring sky and explode into the nearby stadium lights like the baseball hit by character Roy Hobbs in the 1984 film "The Natural."
The art of the javelin comes quite naturally to Grizzle, who this past week was named the 2007-2008 Kansas Girls Track and Field Athlete of the Year by Gatorade and RISE Magazine for the second year in a row. The honor came just days before placing second in the women's javelin at the USA Junior Outdoor Track and Field Championships in Columbus, Ohio.
"It's been pretty crazy," the recent Tonganoxie High graduate. "I got a lot of congrats from everybody and then went out to Ohio with an open mind and didn't really expect to do as well as I did."
Grizzle really caught herself off guard on her best throw of the day Friday in Columbus. That hoist traveled a career best distance of 170 feet, 3 inches. She must have summoned every ounce of her natural abilities on the second-place throw, which landed only 14 inches behind the mark of winner Karlee McQuillen, a freshman at Penn State. The future Nebraska thrower said she had not practiced as much as she would during the season before flying out to Ohio, and, moreover, Grizzle didn't even
execute a complete approach on her best throw ever. She took a few less strides than normal and just flung it.
"I wasn't looking too great," she said of her prior throws, two of which were fouls. "I didn't expect anything big like that."
Grizzle first displayed her promise as a freshman in De Soto in 2005, setting the school record in the javelin with a throw of 129 feet, 4 inches. Upon completing her freshman year at De Soto High it was actually another sport, softball, that brought Grizzle to Tonganoxie.
She and her younger sister, Roni, who still live in De Soto, were playing on the Tonganoxie Braves summer softball team and decided to transfer to THS.
It wasn't until Grizzle started working with Tonganoxie javelin coach Dave St. Cyr that she decided to take a different road to sports success.
"I knew that St. Cyr was there but I didn't know he would help me get where I am," she recalled. "Having St. Cyr as a coach has been like a dream come true because he's a really good coach and I'm glad to have him before I leave for Nebraska."
The road to Lincoln and a college scholarship was paved, Grizzle said, by making the 25-minute drive from De Soto to Tonganoxie nearly every day for three years.
"Every time I drive it, it seems shorter to me," she said. "It's worth it to have it pay for my school."
Other dividends in the form of state titles and the Gatorade awards have been equally rewarding for Grizzle.
"It's really exciting. I've worked my whole career to try and get to this," she said. "There's nothing else I would want."
More like this story