Adventure Center aims to connect children with nature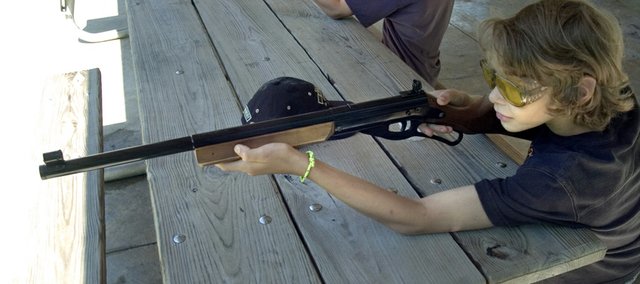 The TimberRidge Adventure Center adjacent to Kill Creek Park south of De Soto has been open for about six years now, and business is good, said Bill McGowan, outdoor education manager for the Johnson County Park and Recreation District.
"In the fall and spring, we have a lot of school groups come through the Challenge Course," McGowan said. "Over 4,000 people ran the challenge course last year."
With more than 200 acres of landscape, the center boasts a professionally certified challenge and ropes course with 22 low elements and a 200-foot zip line.
Although no one was on the course Friday, the park was being used by a JCPRD camp, Outdoor Discovery, for children ages 6 to 12.
The students were able to go boating, fishing and hiking. If they were old enough, they were allowed target practice with BB-guns.
Tristin Granger, 10, of Olathe, Friday loaded his BB-gun, took aim and fired.
"Yes, bull's-eye!" he shouted.
Out of all four of his shots, Tristin hit every one on the target. He said it was his camp experience that helped him.
"I've been coming here since I was 6," he said. "I haven't missed a year."
Tristin said he kept coming back to camp because it was fun.
"I like nature," he said.
Near a pond on the other side of the park, younger children were trying their luck at catching fish. Many of them were using sticks for poles and hotdogs and corn for bait.
Six-year-old Icil Gittings, of Olathe, wasn't having much luck catching fish, so McGowan guided her to the darker side of the dock where the fish would most likely hide.
"I'm like blah, blah, blah, blah, I know I'm not going to catch a fish, blah, blah, blah, I caught one!" she said of her boredom turned to excitement.
Emma Neemann, 7, Lenexa, said her favorite activities were fishing and boating.
"When you go fishing, you get different kinds of fish," the Horizon Elementary School second-grader said. "Boating is really cool, because you get to paddle and you get to steer."
But camp isn't all fun.
"I get mosquito bites every day," Emma said.
Although there were children from all over Johnson County at the Outdoor Discovery Camp, Emma had a familiar face to hang out with, he friend Drayvhen Moore, 7, of Lenexa, who also attends Horizon.
"My mom talked to her mom and then I wanted to do it," Drayvhen said.
Although the camp has its Challenge Course, a pond for boating and fishing, BB-guns, archery and a 40-foot climbing tower, it's only in its first stage of development, McGowan said.
"There will also be residential camping, three to four youth villages, including cabins and a bath house," McGowan said. "The last phase is to build an adult village for about 40 people with motel-style sleeping units."
However future plans are on hold until money is available, McGowan said.
"It's as the budget allows," he said.
McGowan said the TimberRidge Adventure facility would hopefully reconnect children with nature, as is mentioned in Richard Louv's book "Last Child in the Woods."
"His book talks about the need for children and also adults, the need to have children outdoors," he said. "One of the reasons we built this facility was to have a location here in town to have adventure opportunities."
More like this story