Kansas Department of Commerce recognizes Engineered Air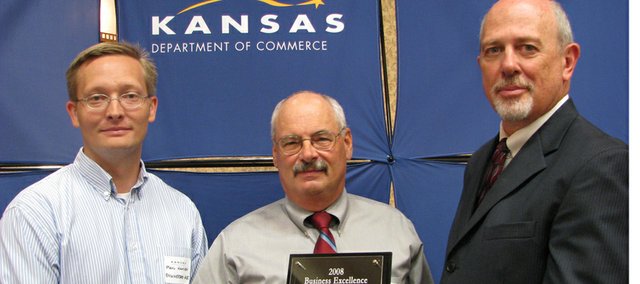 De Soto's Engineered Air was recognized by the state of Kansas for its contributions to De Soto and the economy at the Kansas Department of Commerce's annual Kansas Business Appreciation Month East Regional Awards Ceremony in Topeka. The event was the fifth of six regional such events conducted in June. At each ceremony, one company in the categories of manufacturing/distribution, service and retail was awarded a Business Excellence Award, with the remaining companies given a Business Achievement or a Merit Award.
"We are thrilled to recognize the east Kansas businesses that make this state strong," said Commerce Secretary David Kerr. "By designating June as Business Appreciation Month, we foster a year-long appreciation for the crucial role our Kansas businesses play in the state's prosperity and quality of life."
Nominated by the De Soto Chamber of Commerce, Engineered Air was selected as the recipient of the Business Excellence Award in Manufacturing/Distribution, the highest award given at the ceremony.
"The De Soto Chamber of Commerce was honored to nominate Engineered Air for consideration because of its continued commitment and investment in De Soto," said Sara Ritter, De Soto Chamber of Commerce executive director. "Having been selected as the Business Excellence Award winner in manufacturing/distribution emphasizes its contributions and economic impact to the community of De Soto." Mayor David Anderson and Ritter attended the ceremony with Ric Rambacher, president of Engineered Air.
Engineered Air is the largest heating, ventilation, air conditioning and refrigeration equipment manufacturer in the Midwest. Established in 1966, Engineered Air expanded its current facility twice in the 1990s in De Soto, and is currently undertaking a third expansion totaling 100,000 square feet. The company is a supporters of the De Soto Chamber of Commerce, De Soto Rotary, De Soto Youth Football and Softball, Adopt-a-Family, Salvation Army, De Soto Multi-Service Center, De Soto Days Festival, Johnson County Young MA, Victory Place Church, De Soto Youth Ministries, American Cancer Society and Spinal Muscular Atrophy.
Engineered Air is the second De Soto company to receive top recognition at a Kansas Business Appreciation Ceremony. Mr. Goodcents Franchise Systems Inc. was a 2003 Kansas Business Appreciation Month Regional Award winner.
More like this story