Golf team shows increased confidence in 2008 and returns core of young athletes in 2009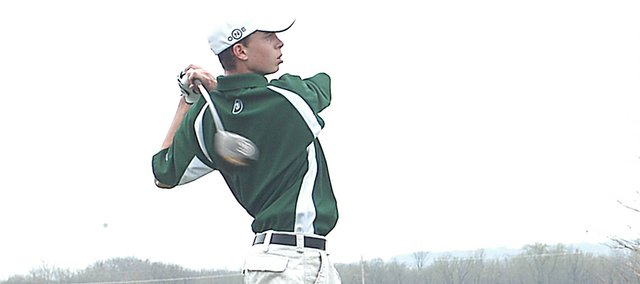 For coach Chad Brecheisen, the 2008 De Soto golf season was a step in the right direction, even if the Wildcats didn't make the leap they intended to from the outset of the season.
All year, as it is for most teams, the goal was to qualify some individuals for state, if not the team. However, the Wildcats may have peaked a little early at the league tournament, and the top two golfers missed a state berth by three and four strokes.
Charlie Modereger shot a 93 at state, while Alex Crall shot a 94 at the regional tourney on a day when the qualifying cutoff score was a 90.
"Alex Crall and Charlie Modereger, they just worked so hard through the offseason and through the summer when they worked at a golf course," Brecheisen said. "Seeing them, they had their ups and downs, but each week to know that they are right there close to busting through, and maybe just a couple smarter decisions managing the course and they would have been right there at state, too."
Three weeks before the regional meet was the team's best all-around performance, when it placed fifth at the league tournament at Eagle Bend Golf Course in Lawrence. On that day, four Wildcats registered scores in the 80s.
Managing the courses and playing with confidence was a major focus for the year, and on that day it all came to fruition.
Crall led the way with an 81 - the ninth-best score in the tournament - and Modereger followed with an 83. Senior Drew Roddy and freshman Brett Williams each contributed 88s, and De Soto finished six strokes behind Ottawa.
Scott McKechnie and Roddy were the lone seniors on the team, and both were counted on nearly every varsity tournament to contribute to the team score. McKechnie's season was cut short before regionals, when an appendectomy ended his season prematurely.
Both seniors will be missed a year from now.
"Both those guys played golf for four years. I only got the privilege of coaching them two," Brecheisen said. "(We'll miss) their leadership and their knowledge of the game and just being able to show the younger guys how to act, how to carry themselves on a golf course. They were huge.
"Just that they've been in those situations and they know how to handle themselves is what I'm going to miss. Hopefully they've passed it along to my younger guys to continue that next year."
Brecheisen has noticed an increase in offseason dedication from his younger guys, a trend that if continued is sure to speed up the team's improvement. Crall and Modereger, aside from jobs, are playing in tournaments over the summer. Williams is working at a golf course. Two other freshmen are preparing to buy new clubs, a sign that the excitement is building within the program.
Also increasing as it did throughout the year, Brecheisen said, is the talent and confidence of his golfers.
"The results never really showed how much we truly improved. Last year I believe we had the talent, and we just never put it together. A lot of that was that they didn't believe that they belonged. Now we're starting to believe we can shoot under 340, maybe under 330 and put ourselves in a situation to potentially challenge for a league title and qualify for state."