Children taste mealworms at De Soto Library event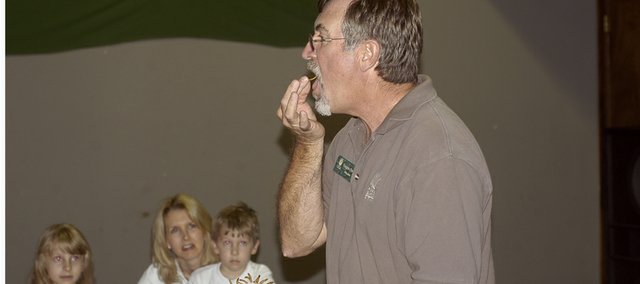 They were small, crunchy and Mexican spice flavored.
They were mealworms, and children and their parents ate them Friday as part of the De Soto Library's Bug Hunters presentation.
The event, presented by Powell Gardens education specialist Vaughn Owens, was part of the Johnson County Library's summer reading program Catch the Reading Bug.
"These actually come from a candy company," Owens told the crowd. " They're called Larvets and they come in barbecue, Mexican spice and cheddar cheese."
Eleven-year-old Bretlyn Opfer, of De Soto, wasn't afraid to try one after Owens ate a mealworm as an example.
"It tasted spicy, but my friend made me close my eyes so I couldn't see it," she said.
Owens served the mealworms sticking out of a ranch-covered cheese ball. Tasters also could use crackers if they wanted.
"There was a gentleman who told me about the Web site where you can purchase these and I thought it might be cool to see if the kids will eat them," Owens said. "I thought I would put them in a cheese ball to make it more palatable."
When 6-year-old Zane Chambers wanted to try a mealworm, his mother, Allison Chambers was surprised.
"He won't eat chicken but he'll eat a bug," she said.
But it didn't last long as Zane soon spat up the mealworm he ate.
Owens told the children how eating bugs was not generally acceptable in the United States, but was a common way of life for other cultures.
"But did you know you eat bugs though you may not know it?" Owens asked the children. "The government allows so many parts per billion in our food chain. They can be in Cheerios, ground up along with the grain."
More like this story