Baseball wins 9 of 10 to overcome start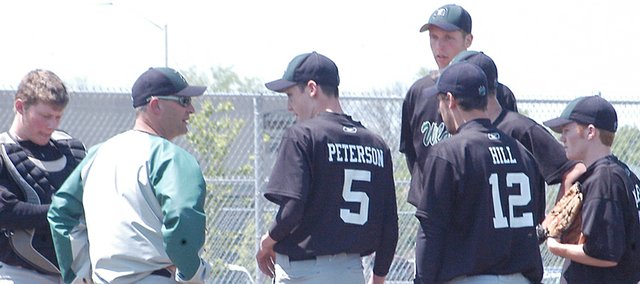 Nine games into the season, the outlook for De Soto's baseball team was bleak.
The Wildcats won their first two games against a young Baldwin team and then lost six of their next seven games, moving their record to 3-6.
The low point of the early season struggles may have been the performance in the Wildcats' home tournament. They dropped three to Piper, Lansing and Mill Valley, losing 19-2 and 11-0 to Piper and Mill Valley, respectively.
"When you look at the beginning, you think, 'oh boy,'" coach Joel Thaemert said. "To play the way we did at the end of the year, to close like we did and play as well as we did, it was a really good year.
"It wasn't what we wanted, because we didn't make it to state. But that being said, it was still a heck of a year."
The season ended in the semifinal round of sub-state, losing 1-0 in eight innings to Spring Hill, a team that finished 19-3 and lost in the championship game to eventual state champion Bishop Ward.
Thaemert pointed to Ward's outcome at state, where they won all three games by one run, including a win over Ottawa, and the one-run game they had with Eudora in the first round of sub-state as an indication that his team doesn't lag that far behind a state champion.
The once seemingly improbable successful run, one in which De Soto won nine of 10 games, began with a sweep of Anderson County that improved the Wildcats record to 6-7.
"Offensively, we finally had some confidence at the plate and then, in turn, pitchers didn't feel like they had to be perfect," Thaemert said. "That was a big help, for sure, like what the Royals go through."
A split with Gardner-Edgerton followed, and from there the Wildcats rolled through the rest of the schedule unbeaten. Thaemert said this stretch and the short run in sub-state were the high points of the season.
"Couldn't wait to get to practice, couldn't wait to get to the ballpark," he said. "Excited to be there, you couldn't wait to play another game. I felt like we were going to beat Spring Hill, too. There was no doubt in my mind, but we didn't."
The Spring Hill loss to end the year for De Soto saw a fine pitching performance by sophomore Daniel Peterson. He gave up no runs in five and two-thirds innings pitched, giving up four hits and striking out five while walking three.
"Daniel Peterson on the mound, he was very good," Thaemert said. "Then you had Dylan on the mound there at the end, he was good. So you had two sophomores step in there and play real well. Hopefully we can carry that over (to next year)."
Thaemert also pointed to Logan Clark and Paul Oswald as underclassmen who emerged as ballplayers this year.
Peterson led the team in most pitching categories 2.91 earned run average. In 31 innings pitched, he totaled 28 strikeouts and 15 walks.
The leader in most other pitching categories was senior Brady Maasen, who had a 6-1 record with 38 innings pitched, 56 strikeouts and 30 walks. His ERA was 3.13. Add to that the fact that Maasen hit .420 and is, according to Thaemert, the best defensive first baseman he has coached and it's evident there will be much to miss with six outgoing seniors.
Travis Crow, one such senior, hit .352 on the year and had a .902 fielding percentage while manning shortstop.
Erik Hill hit .338 with three homeruns and 25 runs batted in.
Shane Miller had a .944 fielding percentage at second base, completing an above average middle infield. He scored 17 runs and had 12 stolen bases.
Eric Buffkin and Jerin Riffel rounded out the senior class, playing solidly at catcher and right field, respectively.
Thaemert gave much of the credit for the winning stretch to his senior class.
"I'm proud of how the seniors all stayed together and fought us through the bad times," he said. "They got along so well. There was no animosity ever. There was no mouthing off to one another or talking bad about each other. It was a very easy team to coach."
And it was a year and team that showed Thaemert the direction of his program is headed in the right direction.
"For me, it gives me confidence to know what I've done in the past is still going to work."
More like this story