Theatre in the Park to open season with 'Oklahoma!'
Shawnee resident cast in lead male role.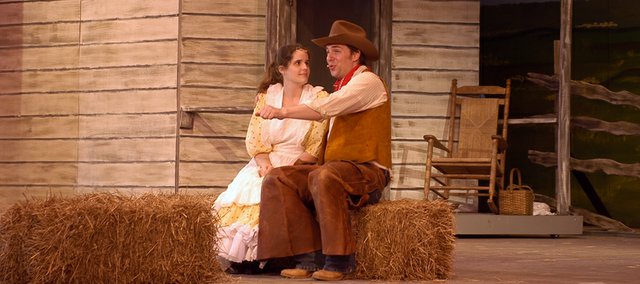 The last time Robert Hingula, of Shawnee, played Curly in the musical "Oklahoma!" it was for Leavenworth's River City Community Players, and the director was Eric Van Horn.
Twelve years later, Hingula is playing the role with Van Horn again as the director, but this time the production is for Theatre in the Park. Neither man has performed or directed the musical since the Leavenworth production.
"He's a great Curly for his look, his vocals and his ability to perform the role," Van Horn said of again casting Hingula as the part of Curly in the show.
"Oklahoma!" by Richard Rodgers and Oscar Hammerstein, tells the story of cowboy Curly McLain and his romance with farmer girl Laurey Williams, played by Alyssa Couturier. The show opens Friday at Theatre in the Park in Shawnee Mission Park, 7900 Renner Road, Shawnee.
"This is one of my favorite shows of all times," Hingula said.
This is Hingula's third performance for Theatre in the Park. He played supporting roles in "Greese" and in "Footloose" in 2006 and 2007, respectively.
In addition to his leading role, this year's performance is more special because his wife, daughter, sister and father are also in the show.
"When I was younger we always did theater, but it's been a good 10 years since all of us have been in a show together," Robert Hingula's sister, Kristin Hingula, said. Kristin Hingula is the assistant choreographer for the show.
Robert Hingula said it was his father who inspired him to participate in musicals.
"My dad has been doing theater since the '70s," he said. "He's always kept that love."
His father, Edd Hingula, recalled when Robert Hingula first auditioned for "Oklahoma!" 12 years ago.
"I remember it was that last night of callbacks," he said. "They had a few open auditions that evening. The director said 'Is there anybody that I haven't heard?' and Robert stands up and looks at me. I went and tried out we wound up playing opposite each other. He played Curly and I played Jud."
In "Oklahoma" Jud Fry is a hired hand working in the household where Laurey Williams lives with her aunt. When Laurey accepts Jud's invitation to a social event instead of Curly's, it spells trouble later in the show.
Although it took some convincing, Robert Hingula got his wife, Melissa Hingula, to agree to try out for the show along with his 5-year-old daughter Darcie Hingula.
"My family really is the number one thing in my life and I figured at this opportunity we should do it together."