Thanks, but no thanks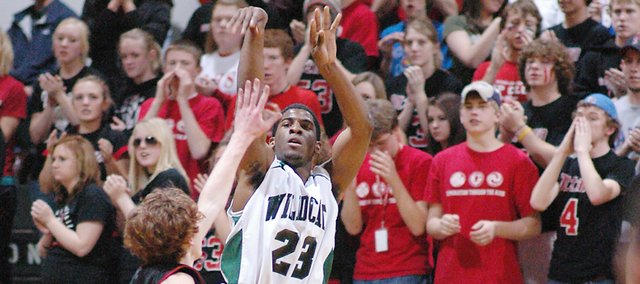 Before Andre Linzy had the time to change out his track shoes for sneakers, a woman in a Wichita State T-shirt approached him for a word at the state track meet. He had just completed the triple jump and the long jump remained.
It was the latest attempt to dissuade Linzy from following through on his basketball letter of intent signing with Coffeyville Community College in favor of attending a larger school - Wichita State is Division I - on a track scholarship.
Linzy took the time to listen, but eventually declined. It was a decision he made weeks ago, and reiteration was a must as he took a gold medal and two silvers at the state meet. It was also necessary after Linzy leapt 24 feet earlier in the year at Shawnee Mission North. At the time, that effort was in the top 10 in the country among high school jumpers. Since then other athletes have eclipsed the mark, but nationally it is still 2 feet, 1.5 inches behind the best jump of 2008.
"At the beginning of the year, when I was in the heat of the moment with a 24 jump, I kind of wanted to switch and do track instead of basketball," he said. "But most of the teachers at my school and the coaches were like, 'Do you really want to do this?' I was like, 'No, I might as well stick with basketball."
A couple of days after he set the mark - on a jump coach Brian Dinkel said everything just came together for the senior - Linzy approached Dinkel about calling a few schools and gauging interest.
There were quite a few Division I schools in fact interested, namely Iowa University, Iowa State, Wichita State and University of Missouri Kansas City.
However, Linzy's love of basketball and dreams of playing at the Division I level in that sport he loves proved to be the decisive in the matter.
"There for a while he was really thinking about it," Dinkel said. "Then the more he thought about it the more he realized that basketball is something he likes quite a bit more and he'd have a lot more fun in college doing basketball than he would doing track."
In a Division I track season, athletes begin practice in August and don't compete until around December, and the season runs until the end of May. That's 10 months out of the year, so dedication to such a grueling season is crucial.
With Linzy considering not going out for track his senior season, all indications suggests he is better suited for college basketball than college track, given his passion for both sports.
"I definitely think he made the right decision," Dinkel said. "He's going to be a lot happier playing basketball than he would doing track. He likes it when he can be successful like most people, but college track, it's a long season. I don't know if Andre would be dedicated enough to track to do something like that."
Rather than missing the competition of the events, which he has thrived at the last two years with three silvers and a gold at the state meet, Linzy said he's more likely miss the people he's met at meets rather than the competition.
"I'll probably miss all the people that I meet and all my friends," he said.
But miss as he might, basketball is his first love and he's no slouch on the hardwood.
Linzy led De Soto in scoring last year with 18 points per game. He shot 41.6 percent from the floor and 38.1 percent from the three-point line, while collecting 5.33 rebounds per game.
Given the opportunity to face stiffer competition for a couple of years, an eventual Division I scholarship is not out of the question.
Whatever the future holds for Linzy, he has the full support of his coaches and faculty at De Soto High.
"We're behind him 100 percent," athletic director Steve Deghand said. "Anytime you have that kind of athletic ability, you'll have some doors open for you but he has chosen to play basketball. I fully expected him to do that. I knew his love for basketball was far greater than his desire to run track and field."