Season of ups and downs ends well for Wildcats softballers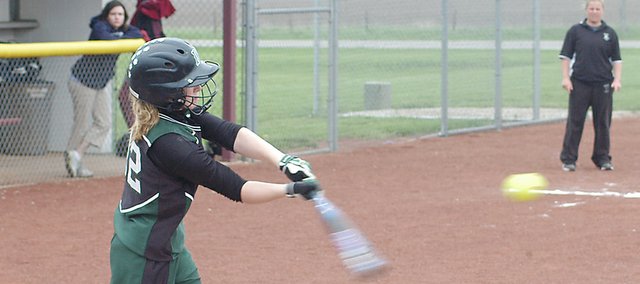 The De Soto High School softball team had a roller-coaster season with ups and downs. But it avoid the big drop that seemed it was destined early in the season and finished a steady climb.
De Soto's softball team finished the year 7-13, the same record as a year ago despite possessing only one senior compared to last year's septuplet.
Second-year coach Melissa Wible was pleased that her team responded with a 7-5 record in its last 12 games after opening the year 0-8..
"They came extremely far. Halfway through the season, they turned it on," Wible said. "For us to win that many games in that little time, that was amazing."
Sophomore Jordin Burford received the only postseason recognition, nabbing honorable mention on the all-Frontier team at shortstop. Burford boasted a .940 fielding percentage for the Wildcats.
However, Burford was not the only one to have a hand in the Wildcats' resurgence.
Senior Jessica Pennington and sophomore Katie Williams were solid throughout the second half of the year on the pitching rubber.
In 126 innings pitched, Williams allowed 64 hits, recorded 80 strikeouts and walked six. Although her record was a losing one, at 4-6, she offered a hope of a brighter future for the team by allowing 26 earned runs on the year.
Williams also hit .366 on the year.
Pennington gave up 30 runs in 122 innings and collected the other three wins for De Soto.
Sophomore Megan Sterling was another young bright spot, leading the team in batting average at .431 while serving as the battery mate to Williams and Pennington.
Freshman Hayley Brown was third on the team in batting average, hitting .295.
The high point of the season, at least for Wible, were the two games De Soto took from Gardner April 29 on senior night, winning 6-1 and 4-0.
"I don't think we'd beaten Gardner. We'd come close," Wible said. "That was a great game."
The victory over the Trailblazers gave De Soto a four-game winning streak headed into the regular season finale at Eudora. In what was a sort of microcosm of the year, the Wildcats dropped the first game to Eudora before rebounding and picking up win number seven.
"The Eudora game was another game that really sticks out in my mind because we played them close," Wible said. "And Eudora always has tough teams so it was nice getting a win from them."
The 7-12 regular season mark was good enough to get De Soto a number five seed, although they lost, 4-0 to eventual substate runner-up Tonganoxie.
But there were plenty of things Wible saw to feed encouragement about the immediate future, including an attitude change in the program that has her kids - not yet one week out of uniform - emailing her and coming by her classroom asking what they need to do to get better.
"It's very different," she said. "They are asking advice and plus some of them (the juniors) are getting ready to go into that recruiting year, which is a big season for them."
Several players plan to play competitive softball over the summer, while the others have the option of playing 10 games on a team Wible will form for the summer. Her hope is the team can begin next year on the same climb on which it ended this year.
More like this story