Double digits twice in a row
Soccer team's season ends at 10-7-2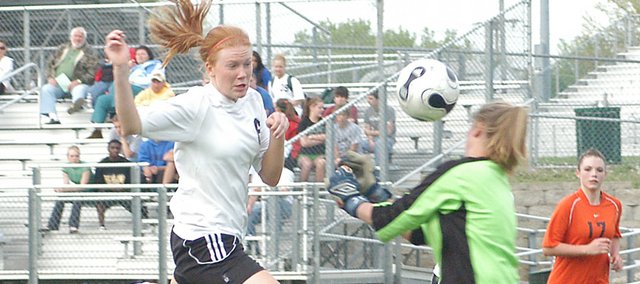 The turning point to the season for the De Soto soccer team may have been a "Come to Jesus" talk about halfway through the season after an April 30 shellacking at the hands of Shawnee Heights.
Heights beat De Soto, 5-0, and moved the Wildcats' record to 6-5-2. It may have been the uninspired play of the team in that game that served as a wake-up call for the team and coach Darren Erpelding.
"They were starting to lose focus, and I thought I was starting to lose them," Erpelding said. "We had a little talk and kind of got it turned around."
Whatever it was, De Soto rebounded after the lopsided defeat and won four of its next five before being defeated by the eventual third-place finisher in the state - St. Thomas Aquinas - and ending its season with a record of 10-7-2.
In order to get to the Aquinas game, De Soto had to beat a Gardner Edgerton team that the Wildcats tied with earlier in the season. The result the second time around showed the progress of the team.
"Coming back from Gardner, being down 1-0 at half, then coming back and winning 2-1 and then carrying that into the Aquinas game, even though we lost 9-0, we kept them 1-0 for the first 40 minutes," Erpelding said. "Those two things are kind of the high points."
The loss ended the career of five seniors who Erpelding said will have a lasting legacy and impact on the program. Nicole Radcliffe, Michelle Faircloth, Julie Bray, Elise Papp and Megen Bedford make up a senior class that, since the program's inception four years ago, has tasted victory 37 times.
"There's probably a lot of schools around that can't say that about the first four years of a program," Erpelding said. "To me, they started the program. They came in and set the groundwork for what we want the program to be; a winning tradition."
Radcliffe leaves De Soto as the most prolific scorer to date, with 132 career points and 57 career goals. She also started in every game of her Wildcat career. Bedford also started each game before an ACL injury her senior year caused her to miss the final season as the team's goalkeeper. She registered one save, on senior night against Bonner Springs in 2008.
Radcliffe received first team all-Frontier League honors and was voted team offensive player of the year by her teammates.
"She's awesome, she's got a great attitude and she's a very good leader," Erpelding said. "She worked very hard every day in practice and played very hard, but she also always had fun at the same time. It definitely trickled down to the younger players."
Faircloth also received first team, all-Frontier League honors in her final campaign, along with underclassmen Danielle Price, Carly Stanley and Ashley Williams. Amber Laudick received second team honors.
Price led all offensive players with 18 goals and 14 assists. Radcliffe scored 17 goals in her final season and signed May 7 to play at Barton County Community College next year.
Other team honors as voted on by the players were Faircloth as most improved player and Carly Stanley as team MVP and defensive player of the year. Laudick received the Justin Rameriz/Coach Elliot Award, an inspirational award given out by Erpelding.
The team and Erpelding hope to ride the momentum of back-to-back, 10-win seasons into next year, and there's no shortage of talent returning.
Aside from that, Erpelding hopes for an increase in off-season participation to improve the young team. He'll be in his first season of not coaching basketball, allowing more involvement in off-season workouts.
"Their off-season conditioning and preseason conditioning, with me is going to be more intense," he said. "They're going to have some more buy-in because there are some better girls coming up and we're starting to get better all the way around. (Me) being there every day, they're going to buy into it even more."