Cancer teaches family lessons in living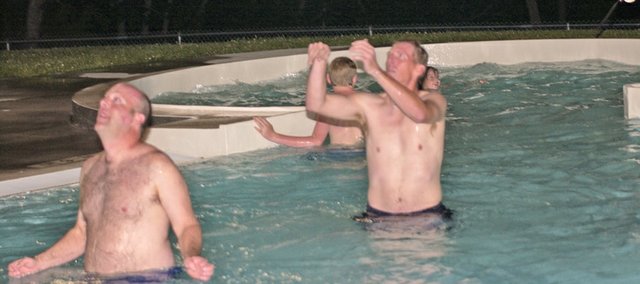 Whether he was shooting baskets with friend Lee Udal, carrying his 7-year-old daughter Lydia around in shoulder-deep water or teasing his wife, Beth, about doing a back flip from the high board, Mark Schutte was getting the most Sunday evening of the De Soto United Methodist Church's Relay for Life pool party.
That is how he approaches life, Mark said.
"I've learned to appreciate the little things," he said. "I thank God for every day."
Mark adopted the outlook after a September 2001 motorcycle accident caused by a seizure that hinted at darker news. Not that the accident that left him with seven broken bones wasn't bad enough.
"I can't remember all of them," Beth said. "He had one good arm and one good leg."
As doctors tended his broken body, they expressed concern about swelling of Mark's brain. Its cause, they said, was either a contusion or a tumor.
"I couldn't wrap my mind around that," Beth said. "I had to get my broken Humpty Dumpty back together first."
Mark mended in a bed Beth, a nurse, set up in their home, but the swelling didn't recede. A MRI confirmed in October 2001 that Mark had a brain tumor.
The confirmation merged Beth's private life with her professional one. She was a nurse at Overland Park Regional Hospital's neurosurgical unit at the time, working with people who had brain surgery.
Partially based on her professional experience, the Schuttes agreed Mark wouldn't have surgery unless the tumor started to grow.
"It just seemed so experimental at the time," she said. "The people I had seen changed so drastically after surgery. We just decided, 'Why do it if it wasn't necessary?'"
Mark had regular checkups as doctors looked for any change to the tumor In 2005, Mark noticed changes in vision that indicated it was growing.
Doctors found and removed a stage 3-tumor pressing against his optic nerve.
"They removed an orange-sized tumor," Mark said. "They couldn't get it all because it was too deep."
Following the surgery, Mark underwent 18 months of chemotherapy and 33 radiation treatments to shrink what was left of the tumor. He's been in been in remission "two or three years" and has scheduled MRI scans every six months to ensure the cancer hasn't returned.
Prognosis for rare cancers like Mark's is unknown, Beth said. For his part, Mark said he intended to be around for many years.
But it will be a different life than the one the Schuttes anticipated before the motorcycle wreck and the diagnosis.
"It changed everything," Beth said. "We talked about things we didn't think we would have to talk about for 60 years.
"It was a blessing really. It brought us closer together. We dance like nobody is watching."
The family "got cancer" with Mark's diagnosis, Beth said. They will attend the De Soto Relay for Life, an event that Mark said now has more meaning to him.
His advice to anyone diagnosed with cancer is to "get a good doctor and pray - a lot."
The salesman for a machine shop said his employer was supportive as was the community.
"The De Soto United Methodist Church community was wonderful," he said. "I had a great support system."
At the top of that system was Beth, both as a wife and a nurse, Mark said.
As she looked out at her husband enjoying the pool, robust again after a terrible accident and brain surgery, Beth said her professional background was important both as a medical advocate and in the battles with insurance companies. But, she said Mark's recovery and upbeat attitude in remission was a testament to his courage and faith.
"It's him," she said. "He's the miracle one. He keeps me up."
More like this story