Ahead of the curve
Boys soccer experience and club participation excite coach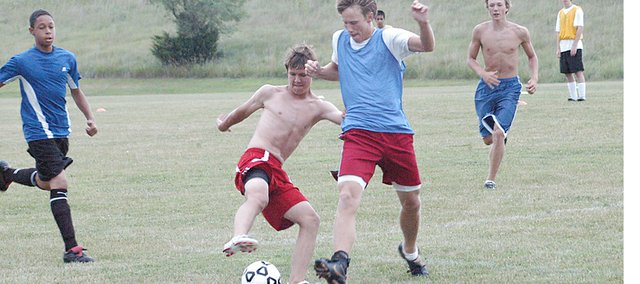 Thirty days seems like ample time for a person to plan a vacation or save up for that new set of golf clubs they've been wanting. But to build a team from scratch, and be ready for the first game of the year? That may seem like a daunting task on the surface.
But the De Soto High boys soccer team, aided by the luxury of participating in the Sunflower State Games Saturday and Sunday, is already ahead of other teams as it wraps up team camp this week. Coach Darren Erpelding already feels confident about which kids will fill what roles.
"I could probably pick my JV and varsity right now. Since I've been coaching it's probably as obvious as it's been. There might be a couple of kids that could go either way," Erpelding said. "You can tell what kids have put in the work and which kids haven't."
De Soto went 2-1 at the Sunflower State Games, falling to St. Thomas Aquinas, 1-0, before beating Immaculata and Eudora, 6-1 and 4-1, respectively.
The close game with traditional 5A power Aquinas boosted the Wildcats' confidence while breaking in a brand new back line of defense.
The game was tied after one half of play, but Erpelding thought the Wildcats played even better in the second half despite giving up the winning goal and not being able to net a goal of their own.
"The second half, we played toe-to-toe with them, and probably better than they did in all honesty. They got a great goal. We should have cleared it, and we didn't get a clear and they got a great goal off a great pass," he said. "But we had five or six shots on them and just couldn't put one away.
"You could just see their confidence go through the roof after that."
And it showed. De Soto rolled over its other two opponents in pool play, but missed out on advancing into the semifinals because they were one point short. The Sunflower State Games advances teams past pool play using a system that awards points through wins, losses, points for and points against.
Aquinas won the tournament, beating Blue Valley West, 2-1.
However, the strong showing coupled with about 10 players' participation in club soccer over the summer has Erpelding's hopes about as high as they could be.
"Barring injury, I'd hate to jinx us but I've been telling everybody this, I think we've got a chance to win it all, a legit chance to win it all. That's how confident I am," he said. "The thing is these guys are starting to believe it too. I can believe it all I want, but it's them."
Such high hopes and encouraging signs mean rather than dread or trying to hasten through the next thirty days, the Wildcats can embrace them and eagerly await Basehor-Linwood on an August 29 home opener.
More like this story