D.A.

race pits two Shawnee residents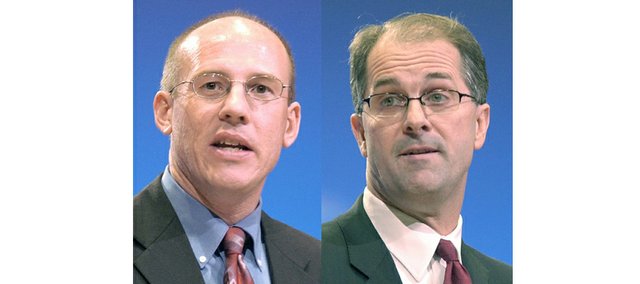 Two Shawnee residents are facing off for the right to move on to the general election in one of the more highly-publicized races of Tuesday's primary.
Current Johnson County District Attorney Phill Kline is asking voters to re-elect him after county Republican leaders selected him as Paul Morrison's replacement in late 2006. Steve Howe, a former employee of the District Attorney's Office under Morrison, also is seeking the Republican nomination, and Tuesday's results will determine who will move on to face Democrat Rick Guinn in November.
Howe is a current Shawnee resident who grew up in Salina. He was an assistant district attorney in Shawnee County for two years and came to the Johnson County District Attorney's Office in 1991, where he worked for the next 16 years.
Kline is a Shawnee native who previously served as a state representative for Shawnee and as Kansas attorney general. Though he formerly lived in Shawnee County while serving as attorney general, he recently purchased a home in Shawnee.
Howe said he wanted to run for the position because he has "a passion for public safety."
"My passion to help victims, especially those who cannot help themselves - children and the elderly - cemented my decision to run for office," he said.
Howe said many others in Johnson County also had told him they were tired of politics running the District Attorney's Office under Kline, putting public safety at risk.
Though he previously made statements saying he likely wouldn't run for re-election, Kline said he changed his mind because he saw a need to continue the practices he has put in place during his time in office, and he was concerned because both Howe and Guinn had worked for Morrison.
"For years the Johnson County District Attorney's Office has operated in isolation without coordination with federal authorities and has acted with a sense of entitlement," Kline said. "Tough cases were pled down and certainly the office did not act to enforce some laws due to political reasons. I believe it is important to change these policies rather than continue 'business as usual' as would happen with my two opponents."
In addition to the need to return the focus to public safety, Howe said his No. 1 priority would be targeting career criminals, a "cornerstone to effective public safety." He said the office also needed more experienced attorneys, noting 18 prosecutors had left the office under Kline's management.
"The lack of experienced prosecutors has greatly impacted public safety," Howe said. "My opponent dismantled the rigorous in-house training and continuing education regimen. Such a program must be established to bolster the effectiveness of our attorneys in the courtroom."
Kline said one way to make the county safer would be to improve the juvenile justice system.
"As district attorney I will work to make changes to the system in ways that will seek appropriate resolutions for juvenile offenders - because they are young and still maturing, we cannot waste the opportunity to make a positive impact in their lives and prevent them from being repeat offenders in our justice system," Kline said.
In regard to the office's cooperation with municipal police departments, Kline said he would like to develop a seamless system of law enforcement to stop criminals from getting through the cracks of the criminal justice system. He noted his Special Assistant United States Attorney program, which he said allows the DA's office to enter federal court and prosecute crimes under federal law when the penalties are more appropriate.
"I believe our SAUSA program is a great first step in that direction - and it didn't happen until I took over as district attorney," Kline said. "Until then, it was the old way of doing business, where police and prosecutors had 'turf fights' and argued over jurisdictional issues. Under my watch, we're not doing that."
But Howe said he has heard differently. He said law enforcement officers have told him the cooperation and assistance offered from the current District Attorney's Office has reached an all-time low.
"Law enforcement cannot reach and obtain sound advice from the office during critical points in investigations," he said. "The damage done to these relationships over the past 18 months has jeopardized public safety in Johnson County. Attorneys must be knowledgeable, and available at all times to law enforcement. The current administration does not respond effectively to the needs of area law enforcement."
Both candidates said their opponents have been spreading false information about them while campaigning.
Kline said voters shouldn't believe ads claiming he hasn't focused on crime in his term.
"I've proven I can handle the big cases," he said. "I've personally prosecuted rapists, child molesters and two major murder cases just in the past two years. All of the people responsible for those crimes are behind bars."
He said the office's jury trial conviction rate is 75 percent under his administration, a five-year high, and the office is operating under budget.
"The things people have been told about me are just plain false," he said. "Look at the facts, and look at the results. Don't believe the talk : just look at the results."
Howe said Kline's ads shouldn't say the termination of seven attorneys in the office at the beginning of Kline's term, including Howe, were performance-based.
"Only through litigation did Kline capitulate and admit that he had no knowledge of our performance and that the terminations were to make room for his political appointees," Howe said.
Howe said Kline also should not claim a mistake was made in one of Howe's murder cases during the transition from Morrison to Kline.
"Had he simply met and discussed the pending cases he would have known that the case had already been resolved with the defendant pleading to second-degree murder," Howe said.
Howe and Kline also said it comes down to experience when describing why they were the best candidate for district attorney.
Howe noted his 18 years of experience as a prosecutor, saying he has conducted more than 90 jury trials and argued before Kansas appellate courts on dozens of occasions, as well as managing many different departments in the District Attorney's Office.
"I have the experience to make the proper decisions and skills to see the case through to conviction in court," Howe said. "I have the skills to lead the office back to being a respected and efficient law enforcement agency for the people of Johnson County."
Kline also recounted his experience and character as the qualities that made him the best candidate.
"I'm the only candidate in the race who will stand up and fight for what is right," he said. "And I'm the only candidate who has a proven track record of managing big cases and big budgets and getting good results."
More like this story