Theatre in the Park ends summer with shipwreck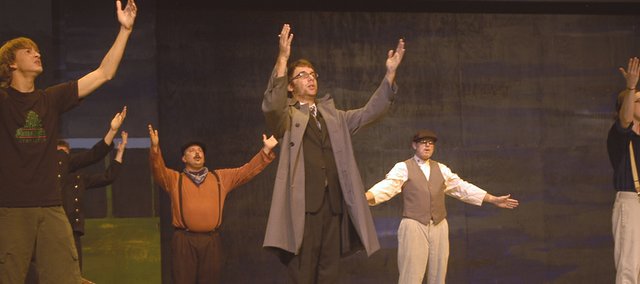 There is only one main character in "Titanic: The Musical," and it's not human.
"The real main character is the ship," said Art Suskin, director of Theatre in the Park's production of the musical.
And it's not easy to work with a script so filled with music and multiple story lines, Suskin said.
"What you do is focus on each moment as if there is a whole wonderful story about all of these characters," he said.
"Titanic: The Musical" marks the end of Theatre in the Park's 2008 season and involves on of the largest casts in the theater's history. There are 61 cast members playing 137 roles, and some of them have as many as five costume changes.
This is the largest production that Suskin has directed and that is why he started getting things together in January.
"I could use a year more to prepare for this," he said.
However, Suskin only has a few days left to make the final adjustments in rehearsals as the show opens at 8:30 p.m. Friday at Theatre in the Park in Shawnee Mission Park, 7900 Renner Road.
"Titanic," written by Maury Yeston and Peter Stone, opened on Broadway in 1997. The production won five Tony Awards including Best Musical.
The musical includes a large chorus and most of the cast is in every number, Suskin said.
"People who are in the smallest part of this show rehearse more and are on stage more than any of the leads in the other shows," he said.
Former De Soto USD 232 Board of Education member Rick Walker is part of the cast, marking 29 years since he last was on a stage performing. Walker joined the cast after some convincing by his son Luke Walker, 20, of De Soto, who plays the conductor of the ship's band.
"Initially I cast Luke because Luke is a very talented young man," Suskin said. "I needed more men and he said what about my father?"
Rick Walker said it didn't take too much to convince him to join the cast in the chorus.
"I though it might be fun to do a show with my son," he said. "I may not get this opportunity again. Who knows what he will do next summer. He may not do this again."