Sheets beats odds, younger foe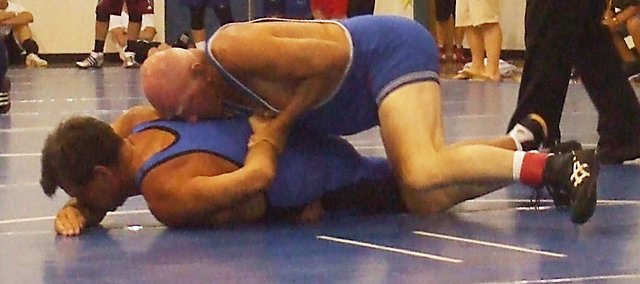 He tried talking the referees into shortening the matches, but it didn't matter.
Scheduled to wrestle three periods of two minutes, with one minute in between periods, 81-year-old De Soto Kids Club wrestling coach Dean Sheets took to the mat Saturday, July 12 at the Sunflower State Games in hopes of going out on top in one last set of matches.
He did just that, pinning the other opponent in his age and weight division - 180 pounds, and 50 years of age and older - in the first period, two matches in a row. Sheets then signaled to the wrestling world he was through wrestling for good by taking off his shoes and placing them in the center of the mat.
"I tried to talk them into the other way around, have two minutes rests (and one minute periods), but they kind of laughed at me," Sheets said. "I didn't have to go past the first period so that kind of helped."
Sheets has coached the De Soto club for more than 20 years. He began coaching Kids Club in 1964, when he started the program in Linwood.
After that program died down after several successful years, Sheets was asked to take over at De Soto. As long as his Linwood kids that he'd be leaving were allowed to join the De Soto program, Sheets would take over. He did just that, and has continued to be a fixture at the side of the mat for the De Soto squad.
"Oh, absolutely, all the kids do," Shaun Miller, co-director of De Soto Kids Club wrestling, said when asked if the kids look up to Sheets. "We were at state last year and all the kids wanted Coach Dean at the side of the mat for them."
But on Saturday, with three of his young wrestlers waiting to wrestle in their age groups and weight classes, it was all about the elder grappler.
Miller said everyone in the gym stopped to watch the match between Sheets and his mid-50s opponent.
Worried about a breathing problem caused by a hernia, Sheets didn't eat anything before his matches Saturday.
"If I do much exertion it kind of shuts off my wind, especially if I eat anything," he said. "It comes up into my breathing, in the esophagus and shuts off my wind."
But it didn't matter. In the first 30 seconds of both matches, Miller said, Sheets rolled his opponent onto his back and stuck both shoulders to the mat.
"I've always been kind of competitive. I've competed in the Sunflower Games before and I thought, well, one more time and I'm through," Sheets said.
It marked the first time since 2001 that Sheets had competed, and he was able to close the curtain on a career - which saw a third place finish in the Big Eight while wrestling for Kansas State from 1949 to 1952 - in style.
"I'd been thinking about it. I've talked about it, so I decided at 81 it's time to quit," he said.
Although finished with wrestling competitively himself, Sheets said he still enjoys coaching and will continue to do so for years to come.
After all, from the side of the mat, seated in a chair, there is no need to lobby for shorter matches.