A far cry from De Soto High
Erisman's first season at Oklahoma State: eye-opening experience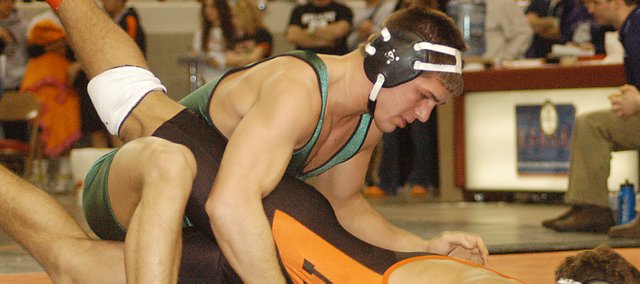 Division I athletics tend to take freshmen and - redshirt or not - chew them up and spit them out. To make matters worse, some sports, football and wrestling especially, require physical maturity before athletes can compete on an even playing field.
But by normal standards, Neil Erisman's 16-9 mark as a redshirt freshman at Oklahoma State doesn't fit the bill of being dominated.
However, the level of competition he faced as a redshirt freshman wrestler at Oklahoma State was above and beyond the likes of which he'd seen before.
After compiling a 16-9 record, Erisman, from De Soto, said he didn't have the year he'd envisioned.
"I didn't have that great of a year, not what I wanted or expected at all," Erisman said. "Even though I had a bad year it still helped me because I learned a lot about what it takes to wrestle on this level and areas I need to improve on mentally and physically."
The sophomore-to-be gained a year of eligibility by taking a redshirt year during the 2006-07 year, although he was able to wrestle in tournaments as an independent wrestler. That meant he paid for his own hotels and traveling expenses and his victories didn't count toward team totals.
He said that year should have been the eye-opener for him, and was to some degree. But wrestling in varsity matches against Division I opponents provided additional realizations he may have missed in his first year.
"It takes more than just wanting to do it. You've got to live the lifestyle," Erisman said. "You can't relax at all. The minute you relax is when someone takes advantage of you."
One match in which Erisman certainly didn't relax was with eventual 157-pound national champion Jordan Leen, a junior at the time from Cornell University. At the Reno Tournament of Champions December 18, the Cowboys' Erisman held his own, but lost, 6-2.
"I wrestled him pretty good, but I didn't deserve to beat him. I wasn't good enough," Erisman said. "It showed me where I was at, and I'm not too far off. But if I don't work hard I'm going to end up being real far off next year."
For much of the 2007-08 year, Erisman was plagued by injury. Around Christmas, he hurt his ankle and the injury required that Erisman wear a boot on his foot while rehabbing.
The injury kept him on the outside looking in until he recovered enough to wrestle in the Virginia duals, where he lost to Rider University opponent Rob Morrison, 13-4.
The turning point, and probably the highlight of the season for Erisman were duals against the University of Oregon and the University of California, Davis. Erisman defeated Kyle Bounds of Oregon, 12-3, and UC Davis' Drew Maraglia, 10-0.
"After I won both of those, that's something that Coach told me, 'It's like you're at nationals,'" Erisman said.
Erisman started every dual after that for the remainder of the season.
Of his 16 victories, 11 included bonus points and he registered four pins on the year.
Now, to take that next step Erisman is lifting, watching film and practicing this summer. He's also helping work camps for OSU.
Never, throughout his first year of wrestling varsity D-I opponents, did he feel overmatched physically.
"I matched up well with everyone that I wrestled, even when I lost," he said. "There's no excuses for losing, I just had to get better.
"I've been improving over the offseason. Wrestling at that level last year, it's something that I've really worked on this year and I've gotten a lot better so far for this year."
The first practices for Oklahoma State begin in September.
More like this story