Officer, sheriff battle for
GOP

votes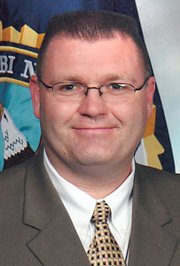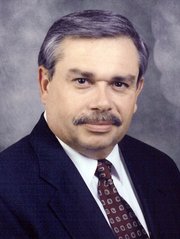 Ken Smith said he feels a tinge of pity for his opponent for the Republican nomination for Johnson County Sheriff.
"I almost feel sorry for him as an incumbent that they threw the quarter-cent sales tax on the ballot when he's running for re-election," the 37-year-old Smith said. "But he asked for it, so I don't. He got the approval and funding to build that jail knowing he didn't have the money to staff it."
Sheriff Frank Denning, 58, said any feelings of pity from Smith were misplaced. Denning didn't ask for the tax, but overcame initial misgivings after Johnson County commissioners decided to put the tax on the Aug. 5 primary ballot after long deliberations in which he participated.
"I've never ran this Sheriff's Office or approached it from a political slant," Denning said. "I'll never play politics with this office. I support the extension because it's needed and it's good for the county."
Should the tax pass, the county would use its share of revenue from the tax - which it currently distributes its share of the tax as educational grants to county school districts - to build and operate a new crime lab and juvenile services complex, remodel the downtown Olathe jail, and help finance the jail expansion at New Century near Gardner and its operation.
The opposing views on the sales tax characterize a race in which the challenger paints his opponent as a spendthrift and the incumbent dismisses Smith as administratively green without experience with large departmental budgets.
Because of a redesign provided by the sheriff's department, the jail will have 544 beds, more than 200 more than in the original design, without enlarging its footprint, Denning said. That will serve the needs of the county until 2021, he said.
He also said there is a "tremendous" need for the expanded crime lab to be built should the sales tax be approved.
Rather than build a new jail, the county would have been better served placing prisoners in private jails, said Smith, a lieutenant with the Mission Police Department.
That was explored before county commissioners approved the jail expansion, Denning said. It was found not to be cost effective, but the real problem is the state doesn't allow the use of private jails, he said.
Part of the reason for the county's jail space crunch is the recidivism rate, Smith said. To combat that, he would introduce drug and alcohol programs for inmates and make it an experience they wouldn't want to repeat, Smith said. As sheriff, he would re-introduce chain gangs in which convicted prisoners would help pay for their incarceration while providing a service to county taxpayers, he said.
That's empty "tough talk," Denning said. Eight-five percent of the inmates in county cells haven't been convicted and can't be placed on chain gangs or punished in any way, he said. Some of the remaining convicted inmates are dangerous enough they needed to be in a cell and not on a chain gang, he said.
The county does have a work-release program for convicted inmates that allows them to continue to provide for their families and pay jail fees and taxes, Denning said. He favors developing other alternatives, such as leg collars, which will reduce the county's jails population without jeopardizing public safety, he said.
In addition to overseeing the opening of the jail expansion, he was looking forward to developing a strategic plan and reorganization that would make more efficient use of the department's resources, Denning said.
Should he be elected, his first act would be in stark contrast to the first three years of Denning's administration that saw the office's budget increase from $56 million to $72 million, Smith said.
"My initial assessment is to go in and cut the budget toward building a good-faith relationship with the people in the county," he said.
Smith said he would also respond to what he called an out-of-control criminal activity in that part of the county patrolled by the Sheriff's Office - primarily the remaining unincorporated areas and the cities of De Soto and Edgerton. While violent crime rates have fallen elsewhere in the county, as they have most places in the U.S., they have increased by 500 percent in the sheriff patrol areas.
"He doesn't have an answer," Smith said. "I'm very good at directed patrol and problem-solving policing."
Smith said he would also get tough on illegal immigrants, an example he hoped would spur police chiefs in the county to do the same.
"That's a big issue for me," he said. "The law enforcement community as a whole is not doing its job. A lot of it stems from the sheriff. He has to set the tune and back it up."
The U.S. Immigration and Custom Enforcement offers a program that will train local law enforcement officers and pay jails $109 a day to house illegal immigrants until they are deported, Smith said.
Denning said the problem with the program is that once Immigration and Custom trains officers, the agency can assign them outside of the county.
"That doesn't seem very cost effective to me," he said. "That's why most of the sheriff's in the state have declined to take part."
His deputies have no authority to deport illegal aliens until they are convicted of a crime, at which point they are turned over to federal authorities, Denning said. They have no authority to run to employers or ask individuals for documentation, he said.
"We don't have that authority," he said. "We can only enforce those laws empowered to us. The Kansas Legislature debated that question for the last two sessions and haven't been able to come to a decision."
The crime rate figures Smith cites were wrong, Denning said. Violent crime is down in those parts of the county his department patrols as they are elsewhere, he said.
But he added sometimes an increase in crime rates in areas with small populations, such as rural Johnson County, was an indication of the effectiveness of law enforcement.
As for Smith's budget promise, it just reveals his inexperience, Denning said.
"He has no conception of what it takes to operate this department," he said. "He doesn't have the administrative experience to run this office. Mission has a budget of $1.2 million at best, and he doesn't have his hands on that."
Although the two candidates for Johnson County Sheriff are both Republicans, with no Democrat in the race, county GOP voters will apparently decide Aug. 5 if incumbent Denning wears the sheriff's badge for the next four years or hands it over to Smith.
More like this story