Wildcats end summer league with most wins, but final standings remain unclear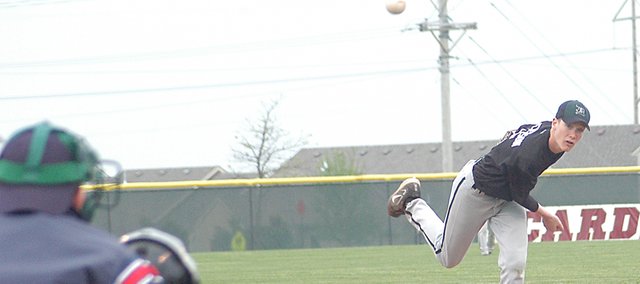 Seldom in sports is a league - to use an oxymoron - inconclusively concluded. Such is the case with the Johnson County summer 3and2 league in which the De Soto Wildcats played.
Up to this point, it seems like the Cats own the best record, at 13-3-1.
But the unavailability of some of the teams' results means that until those results are submitted, a league champion cannot be decided.
Still, it was a good summer for the Wildcats developmentally, and coach Joel Thaemert came to the realization that two teams are necessary.
"It was a good summer," he said. "We just had too many guys. We're planning on having two teams, an 18 and under team and a 16 and under team and playing four or five tournaments with each team, really build the program as much as possible."
The Wildcats, in the 16 and under American League of the 3and2 league, started the season hot, reeling off 10 victories in a row against predominantly junior varsity squads. Then they lost three of their last seven games and tied one, because of time constraints.
In the last game of the season, against the Coffman Insurance Tigers, the teams were tied at 8-8 in extra innings when the game was ruled a tie because the game to follow had to get underway.
Regardless of record, Thaemert took some positives from the summer, mainly that he now is more comfortable with certain players playing multiple positions.
Catching, pitching and the outfield are all areas where Thaemert saw development.
The seasoned catching duo of Dalton Thompson and Logan Clark seems poised to form a solid core.
Daniel Peterson, Tommy Elmer, Eric Seymour, Kyle McCulloch and Dylan Burford all showed enough on the mound to suggest each has a shot at logging a significant amount of innings on the mound.
In the outfield, Sam Seabolt, Burford and Tyler Buffkin all made strides and appear fundamentally sound and ready to challenge for starting roles in left, center and right, respectively.
Throw into the equation Paul Oswald, who didn't play summer ball but started in left as a junior and hit second in the batting order most games, and De Soto's outfield suddenly looks to be a strength of the team.
"Our outfield situation is great," Thaemert said. "I feel really good about that."
On the infield, that's where certain players began to branch out and be able to play different positions over the summer.
Three players, Peterson, Elmer and Billy Burford, could play third. Four - Elmer, Seymour, T.J. Martin and McCulloch - can play shortstop.
Then there are two viable options at second and three at first.
"I think this summer, more than anything, we got more comfortable with guys at different positions. You tell a kid, 'If you're a left fielder, and your not the best left fielder, you're not going to get to play,'" Thaemert said. "If you can maximize you positions, play two or three, and play it well, you'll play."
More like this story