Horsethief 5K draws more runners, slower field in 2008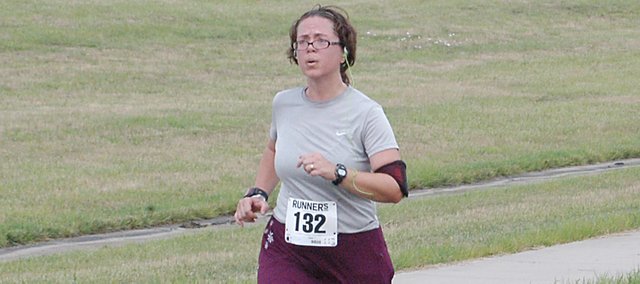 Two 71-year-olds, an 8-year-old and 112 people of varying ages in between all gathered in one spot Saturday, and it wasn't at a city pool or country club.
All 115 participants completed Saturday the annual Eudora Horsethief 5K Race at the Eudora High School cross country course.
Taking part were father-son tandems, mother-husband-son trios, a former Big 12 and Kansas State standout and even one man from Stillwater, Okla.
"We increased the total number of entrants from a year ago, and we just continue to grow the race," said Eudora High cross country coach and event organizer Paul Boone.
At 7:30 a.m. Saturday, a cannon was fired and 138 people took off from the starting line. Of those 138, 23 were participating in a one-mile fun run. The benefited the Eudora High cross country team, and the actual number of entries, counting no-shows, was 156.
Members of both the De Soto High School's girls and boys team took part in the race, and two prospective members of the 2008 team, Trey Lind and Michael Dozier, finished 10th and 11th overall, respectively. Lind crossed the finish line in 19:31, good for fourth in the male 16 to 19 division. Dozier's time of 19:41 netted him second place in the male 13 to 15 division.
Lind said it was a competitive field, but a person's placing wasn't the most important thing to take away from the event.
"This was kind of more to come out and have fun, and also to see what kind of shape we're in right now, see what we can do to get better during this training time," he said. "I think I'm in pretty good shape right now."
Other notable finishes by De Soto residents were: Montana Frehe, first in the female 1 to 12 division in 31:48; Chris Dvorak, fifth overall and second in the male 16 to 19 division in 17:52 and Morgan Frehe first in the female 16 to 19 division with a time of 21:30.
Brian Showen, De Soto, took fourth in the male 40 to 49 division in 22:37 and said although he ran in three or four races a year, it was just a way for him to stay in shape. Showen ran a mile race July 4 and ran a 15K race earlier in the year. He felt the field was slower than last year, when he also ran in Eudora's 5K race.
"Since I ran the mile last Friday, I thought I'd be in real good shape to run this fast," Showen said. "But it was slower than last year, and I attribute that to the humidity and the heat."
It may come as no surprise that former K-State cross country runner Joe Moore took home the overall title, completing the course in 15 minutes, 55 seconds. Charles Janssen, Leawood, and Cody Burns, Eudora, took second and third with times of 17:03 and 17:27, respectively.
De Soto cross country coach Chris McAfee said his team used the course as a sort of measuring stick in the middle of the summer.
"They want to know where they're at and see whether they are making any progress," he said. "It's nice because it's a cross country race on a course that a lot of them will run, and have run before, so it's a nice check-point for them.
"The girls found out that they're in fairly decent shape. I think the guys, some of them, found out they're in pretty good shape and some of them found out they need to probably learn how to race a little bit better."
Once expenditures were paid, the Cardinals were benefited to the tune of about $2,000. The proceeds will be used to provide athletes with rewards such as dinners after hard training days or, even, a training trip to a locale in the area at which Cardinal runners don't usually get to train.
Competition aside, the theme of raising funds for the team may be the point of having people pay the entry fee and run on Eudora's home course, but the race is about more than that to Boone.
"The whole feel of the event is we want to have fun being fit, continue to improve," he said. "Get out there and everybody has their own goals no matter where you're at in the race. Seeing those people go after those is a lot of fun."
That enjoyment and fun was precisely what the Tollefson family of Lawrence got out of the event, as well as the feeling of completing something together. John Tollefson, wife, Julie, and son Jacob all completed the 5K race Saturday.
In this case, youth won out as Jacob, 9, finished ahead of both parents and just two places ahead of his father in a time of 32:04, good enough for fourth place in the male 1 to 12 division.
"It's just a way to get out and run with my family," Julie said. "It was a great day to run, nice and overcast. They (husband and son) probably enjoyed it more because they were more speedy than me."
McAfee said he'd like to have a similar fundraising race at De Soto, but the Wildcats lack a home cross country course and, after breaking down the cost of insurance for hosting such an event, it wouldn't be cost effective.
Boone said insurance was one of the high-cost expenditures of the race.
More like this story