Wes Wedman Friday brought a piece of a culture half a world away to De Soto.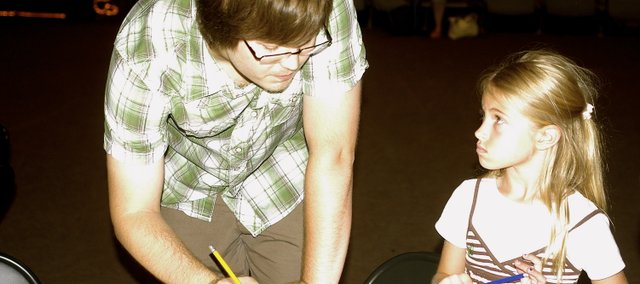 Wes Wedman Friday brought a piece of a culture half a world away to De Soto.
Wedman presented "Drawing Manga," a program sponsored by the De Soto Library.
Manga is Japanese for comics. Characters are drawn in the anime style, which is Japanese for cartoon.
"What are some of the differences between Japanese cartoons?" he asked the nearly 20 children present at the event. "They always have little heart-shaped faces, big eyes and small mouths. I think that is why kids like it so much - because of that look."
Many of the children were familiar with anime, because of the popularity of cartoons like "Pokemon," "Dragon Ball Z" and "Sailor Moon."
Wedman told the children and their parents that popular anime artist Osama Tezuka was influenced largely by Walt Disney, which can be seen with his character Astroboy.
"Osama Tezuka was a really big fan of Walt Disney cartoons, an he kind of based his drawings on some of those cartoons," Wedman said. "Take a look at Snow White. They both have those big doe eyes."
Tezuka also is well known for "Speed Racer," and some believe he influenced Disney's "The Lion King" with his creation of "Kimba the White Lion," in 1950.
Most anime started out as a comic book, Wedman said.
"Comic books are really popular in Japan," he said. "They make them for moms; they make them for businessmen. For some reason they are just a lot more popular in Japan than they are here."
Manga and anime artists also use special symbols to illustrate what the character is feeling or doing.
For instance, an exaggerated drip of sweat means that a character is worried or nervous, Wedman said. He likened that symbol to the Western symbol of a light bulb over a character's head signaling an idea.
"No one would know that unless they were part of the Western culture," he said.
Then, Wedman gave the audience some brief instruction on how to sketch a frame of a character, and he set them loose to work on their own.
Later, he provided some tips on how to draw hands and faces.
Lisa Ingelsc of Olathe brought her daughters to the event because of their passion for drawing.
"We saw that and saw that it was going to be in De Soto and thought, 'Cool, it's right near us,'" she said.
Her 12-year-old daughter Zoe Ingelsc already had some experience drawing anime in her spare time.
"I like how it looks," she said.
Lisa Ingelsc said her daughter is an avid artist.
"That's all she does all day at home," she said.
More like this story