De Soto's population grows at 2.2 percent, Census Bureau estimates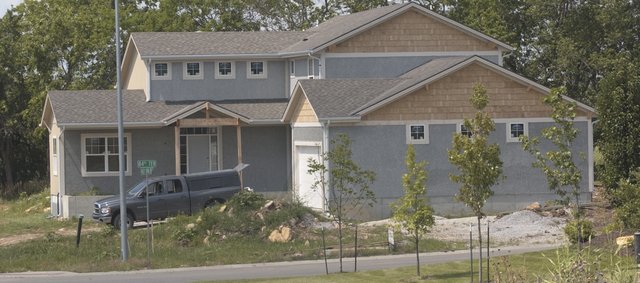 De Soto grew by 118 resident in the latest annual estimate from the U.S. Census Bureau, which released figures last week of population trends that coincided with the start of the nationwide housing slump.
The figures indicate the city's population grew from 5,251 to 5,369 in the 12 months from July 1, 2006, to June 30, 2007.
Although home sales were still robust in Johnson County in the early part of that period, there was less activity in De Soto because of a lack of platted subdivisions.
There were nine permits issued for single-family homes in the 12 month period reported in the latest Census Bureau estimate, said De Soto codes inspector Steve Chick.
If new housing starts relate to increased population numbers, De Soto won't see much of an increase in the next few years. The city recorded 11 single-family home starts from July 1, 2007, through June 30, 2008.
Ironically, the city now has a number of active subdivisions. Nate Harding said work would start next week on the first home in his 32-home Brook West subdivision. He would probably build a couple of spec homes after the subdivision's grand opening in September, but most of the houses in the subdivision featuring a lake and river valley views will be custom homes, he said.
Harding said he expected a two to three year build out of the subdivision.
Arbor Ridge is in the 43home first phase of its eventual 213-homes build out, and one home is being built in the 23home Oak Country 8 approved last year. In addition the 62home Cherokee Woods has received a preliminary plat, although its developers haven't returned for the final plat needed before home construction can start.
There has been some sales activity in Arbor Ridge, said Beckie Lobe, sales manager for the subdivision. Nine of the 17 completed or nearly finished homes in the subdivision have sold, she said.
All but one of those homes sold in the last year, Lobe said.
Construction started in Arbor Ridge just as the housing boom ended nationally and in Johnson County with over supply, higher interest rates that contributed to foreclosures and tougher loan practices that continues to pledge the housing market.
Lobe added gas prices as a concern to those shopping for homes in De Soto. Arbor Ridge gets interest in households with one spouse working in Lawrence and another in the metropolitan cities, but gas prices were on the minds of potential home buyers - who acknowledge they could get more home for the dollar in De Soto than the suburbs to the east, she said.
Another group showing interest in De Soto are those wanting to downsize but first have to sell their existing home, Lobe said. That included seniors and younger couples who perhaps bought more house than they could afford, she said.
Arbor Ridge's developers were now evaluating the market to decide what kind of home would move, Lobe said. Ranch-style homes seemed to be popular, she said.
More like this story