Organizers of Eudora race hope for better turnout than a year ago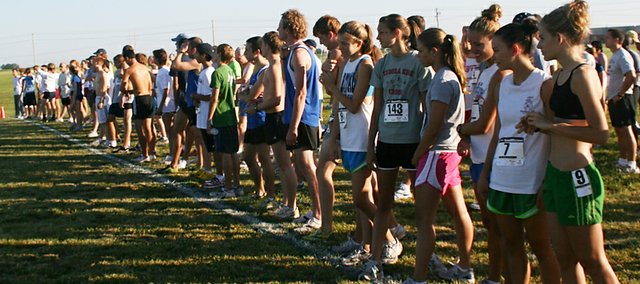 Five kilometers equates to three and one-tenth miles.
That's the distance runners will face when a cannon sounds the start of the annual Eudora Horsethief 5K Race at 7:30 a.m. Saturday at the Eudora High cross country course.
The namesake for the event originated after Eudora High's cross country team took over the direction of the race, and it pays homage to the former name of the race, the CPA Run.
CPA stands for Central Protective Agency, a division of the Anti-Horsethief Association. That group included citizens who joined together in an attempt to bring law and order to early Eudora.
Aside from raising money for such things as tents at meets, food and beverages for athletes and trips to training sites, the cross country team also hopes to encourage people to stay healthy.
"I want people to be motivated to get in better shape than they were last week, or last year," cross country coach Paul Boone said. "I want them to be motivated by watching our high school kids, the college kids that are running and even the post-collegiate guys that are running.
"But also I want them to be motivated by watching that
person that's never run a race before. That's my goal, to motivate each other to get better fitness-wise. It's a lot of fun being in shape."
Aside from the 5K race, there also will be a 1-Mile Fun Run that will take place at the same time.
Registration costs $25 and will be from 6:15 to 7:15 a.m. the morning of the race in the concession stands between Eudora Middle School and Eudora High School. Entries are also being accepted at www.active.com.
First place overall in male, female and masters divisions will be awarded a $50 gift certificate to Garry Gribble's Running Sports store, a store that now has a location in Lawrence and caters to runners. Other prizes include commemorative horseshoes that are painted and indicate placing
in the race.
Post-race food and beverages will be provided, and the band Two Much Fun will perform before, during and after the race.
As of Tuesday evening, more than 70 entries had registered, and Boone said he's hoping to exceed last year's turnout of around 140 runners in the 5K race and between 20 and 30 runners in the fun run.