Golden girl
Former Wildcat standout enjoyed first year at U of Akron, hopes for more opportunities in 2008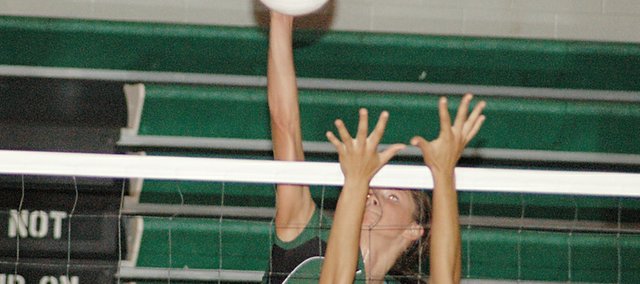 Akron, Ohio - former home of LeBron James, current home of Jackie Goleman. Although the two athletes may differ in the degree of their stardom, they do share the experience of grooming athletic ability in Akron.
James grew up in Akron, while Goleman made Akron her home last year in her first year of a volleyball career at the University of Akron.
Goleman, who'd never heard of Akron or set foot inside of Ohio before being contacted by the Zips coaching staff her senior year at De Soto High, liked her experience as a college freshman.
"I love the campus. They've made it so beautiful and so convenient," she said. "(At Akron) your campus is so small, but there's a lot of people on it. You have classes five minutes away, so you don't have to stress out about getting class to class, you know you'll be there on time."
On the volleyball court, Goleman's experience was a good one, although with the transition and adjustment to new head coach Ron Arenz, Goleman looks forward to more opportunities for playing time in the coming years.
She appeared in 26 matches in the fall under coach Mike Sweitzer, whose contract was not renewed at the end of the season.
"I liked him because he gave me chances, but I don't think he gave me as many chances as the new coach is going to give me," Goleman said. "They are two totally different people, they have two totally different backgrounds.
"(Sweitzer) put me in th middle, and now my new coach is going to have me play outside."
A 6-foot hitter, Goleman amassed 92 kills and 27 blocks - nine of which were solo - during her freshman year.
Statistically, the highlights of her year included two series against Bowling Green and Buffalo. Versus Bowling Green, Goleman had 11 kills while posting a successful hitting average of .360. She recorded eight kills, with a .438 hitting percentage and matched a season high with four blocks, two solo, against Buffalo.
But to Goleman, these two performances, although solid as they may seem, weren't at the top of her most fondest memories.
She points to two experiences in her first year that she'll remember for years to come.
The first are her first two statistical accomplishments of the year which took place in the final week of August. She registered two kills against Rider August 24, then tallied an assisted block versus Ole Miss August 31.
"Whenever you're in high school, getting a kill (or block) doesn't really mean that much, but when you're in college it's like, 'Wow, I just did that,'" she said. "I've always dreamed about this as a little girl. I can tell my kids about this."
The second thing she'll remember was the team's trip to tradition-rich Ohio University, which finished 26-6 and 24th nationally in the RPI rankings. The Zips nearly pulled an upset across the state in Athens, Ohio, but lost the final match of a three-game series, 31-29.
"Going there and almost beating them, that's awesome because you have all their fans against you, and that's an intimidating, intimidating gym," Goleman said. "The ceiling is so high, and they have flags all up on the ceiling. It's like, 'Whoa, this is the big-time.'"
In the series, Goleman logged playing time in two of the games and registered four hit attempts. Her role was such last year that she'd come in, most times, for a couple of attacks to take the opponents' focus off the Zips' middle hitters.
She looks for an increased role this year, and she has no regrets about her decision to attend the Division-I, Ohio school.
More like this story