$75 million bond issue put to vote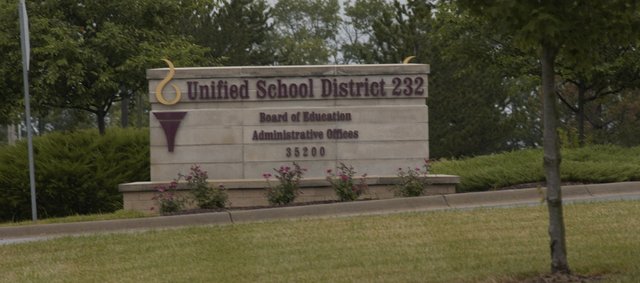 The De Soto USD 232 Board of Education on Monday approved a bond resolution that the district discussed and planned for months - but at a cost of $2.5 million more than expected.
Board members adopted, 6-1, the bond resolution not to exceed $75 million. The proposal will be on the Nov. 4 general election ballot, where it needs voter approval to be adopted. Board member Randy Johnson dissented.
Projects proposed in the bond issue include expanding Mill Valley and De Soto high schools to 1,400 and 1,000 students, respectively, and building another elementary school on land the district owns at 58th Street and Belmont Drive in Shawnee.
In June, the board signaled its intent to move forward with a bond resolution not to exceed $72.5 million. At that time, Superintendent Sharon Zoellner said she would work with district employees to bring that cost estimate down in time for the board to adopt the resolution at Monday's meeting.
But substantial increases in steel and oil prices led district facilities director Denis Johnson to propose the $75 million price tag to the board. Johnson's figure allows for a 16 percent inflation rate instead of a 12 percent inflation rate.
"The market is just really unstable right now," he said.
When district voters last approved a bond resolution in 2002, an elementary school at 58th Street and Belmont Drive was included, but was later cut from bond projects when increasing steel prices made it too expensive.
Johnson said using the 16 percent inflation rate would offer a better guarantee that the district would be able to afford all three projects, should voters approve them.
With a 12 percent inflation rate, the estimated project costs are $22.5 million for the seventh elementary school, $25.78 million for De Soto High and $23.3 million for Mill Valley.
Although the board increased the overall bond total to $75 million, members did not discuss how they would apply to the cost of each project.
Newly elected board president Larry Meyer said he was hesitant to approve a bond resolution with a higher price in a poor economy. But Meyer emphasized that if the price came in lower, the board wouldn't have to spend the entire $75 million.
"Can we put 'not to exceed' in bold?" he asked.
In May, then board president Janine Gracy said she was concerned a $70 million bond issue might not garner patrons' support. In September 2007, patrons voted down a $70.5 million two-question bond referendum that asked for an expansion to Mill Valley, a gym addition to De Soto High, elementary additions and an early-childhood education center in its first question, and theaters and artificial turf in its second question.
The 2007 bond failure was preceded by voter rejection in November 2006 of a $105.7 million bond that would have built new elementary schools, expanded De Soto and Mill Valley high schools, constructed a new early-childhood center and purchased land for future schools. The November 2006 bond failed by 33 votes.
When the September 2007 bond failed, the board agreed to fund a $13,800 survey of 400 district patrons to aid it in crafting a bond project list patrons would support.
The board used what was learned from that survey to develop the bond resolution for the Nov. 4 general election. Board members also approved funding less costly projects, like additions to Starside and Clear Creek elementary schools, from of its capital outlay funds.
As they selected projects for the referendum, board members learned that a seventh elementary school eventually would be needed to address growth at Mize and Horizon elementary schools.
Denis Johnson said the district had two options about to address growth at Mize and Horizon elementary schools. A seventh elementary school could be built in 2010-11, which would delay the need to expand Horizon until 2013-2014 or Mize until 2015-16, respectively, he said. The other option would be to expand Mize and Horizon in 2010-11 and put off construction of a seventh elementary school until 2011-12.
Earlier this year, district operations director Jack Deyoe projected the district would reach its high school capacity in the 2009-10 school year with 1,080 students at Mill Valley and 670 students at De Soto High. Mill Valley's capacity is currently 1,000 and De Soto's is 750.
In February, Deyoe presented information to the board on the future development of the district. In the area north of Shawnee Mission Parkway and east of Kansas Highway 7, projections indicated the number of high school students would grow to about 1,322. Deyoe's projections used enrollment numbers for the amount of students in kindergarten through third grade in the 2007-08 school year. It did not account for students moving into the district. Deyoe presented the information so the board could help determine how to create natural boundaries for schools as it developed the bond resolution.
More like this story