Summer league team falls but remains #1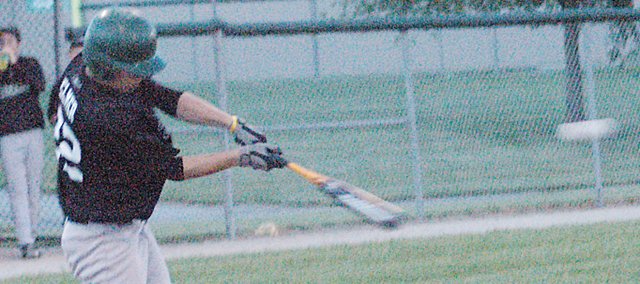 Compared to the rest of the summer, it was downright ugly.
So ugly that at the end of a big third inning in which Olathe South plated four runs and sent every batter in the lineup to the plate, Coach Joel Thaemert held a conference outside the dugout and was visibly upset.
"We didn't compete at all," he said. "But man, they were good. It was a step up in competition (against South), and we didn't quite respond the way you'd hope."
The Wildcats summer baseball team lost 9-1 to the Falcons Tuesday, pushing De Soto's record to 11-2 on the year.
Despite the outcome of the game Tuesday, participation in the Johnson County 3and2 Baseball Club's American League - which consists of underclassmen - has provided meaningful development for some Wildcats that will have increased rolls come next spring.
One bright spot that Thaemert has seen is the catching situation. Logan Clark and Dalton Thompson are both dependable options behind the plate and could hit in the middle of the order for De Soto come spring time.
Clark had one of De Soto's five hits Monday.
"Our catching situation is going to be really good," Thaemert said. "Dalton Thompson, he's going to be a stud. And Logan Clark, we're going to be solid there."
Another bright spot looks to be the outfield, where Thaemert thinks his arms should improve over a year ago.
But all the optimism, at least temporarily after starting the summer 11-1, was dashed when De Soto ran up against a Falcon team the likes of which De Soto hadn't seen yet. No other team comes close to the talent of South, Thaemert said.
Other than three singles by Clark, Lyle Logan and Sam Seabolt, De Soto managed no knocks through the first five innings. They also struck out 10 times in those opening five frames, and 12 times in the 21-out game.
"And those guys don't strike out, that's the thing. We're more contact hitters, and that will be one thing that will help us out offensively." Thaemert said. "But that pitcher, man he was good."
Defensively, it was a game marked by errors and mishaps all the way around for the Wildcats.
Daniel Peterson struck out three of the first five hitters he faced, but was roughed up in a decisive third inning.
Trailing 2-0, Peterson faced every Falcons hitter in the lineup in the third.
That meant 10 in this case because the 3and2 League utilizes the EH, or extra hitter. Teams can bat an extra person in the lineup if they don't use a designated hitter.
The top of the order for South opened the inning with back-to-back singles, then a pair of errors allowed both runners to score. Peterson did bounce back to fan the number seven-and ten-hole hitters, but that was after the damage was done and De Soto trailed 6-0.
With the quality of pitching they were facing, it was too much to overcome.
Still, Thaemert remains upbeat about the participation and development of his players thus far this summer.
Also, playing in the sub-varsity league seems to have afforded his team the luxury of competing rather than possibly getting pummeled night in and night out in the varsity league.
"I don't know if you learn from that (facing stiffer competition) or not. I don't think you do," he said. "You might get frustrated and not wasn't to even come to the ballpark every night."
Regardless of Tuesday's setback, De Soto remains atop the standings in the American League.
More like this story