De Soto draws antique road show
Car club tours Weller's garage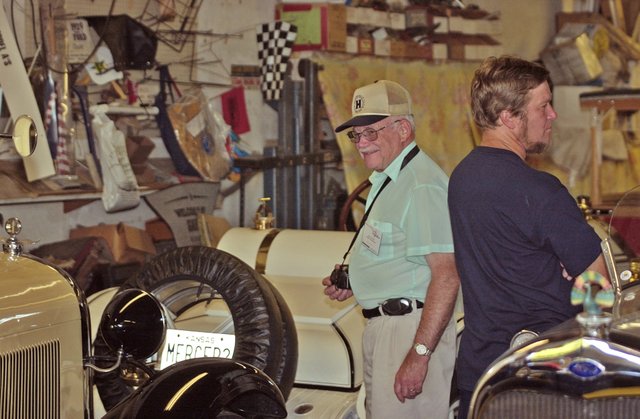 Larry Hupp walked away from a tour of Dean Weller's downtown garage thoroughly impressed.
Hupp was among the members of national Hupmobile club who drove their antique cars Tuesday from a convention in Topeka to De Soto to visit Weller's garage. The fact the majority of Weller's collection is Ford Model As did nothing to dampen the enthusiasm of the Hupmobile fans.
"It's amazing what's all in there," Hupp said. "I wish there was a place like this for Hupmobiles."
The Racine, Wis., man said he didn't know if he was related to brothers Robert or Louis Hupp, who founded the Hupp Motor Company in 1908. But he said his surname explained his interest in the car, which was manufactured from 1910 to 1940.
"I had a seventh-grade woods teacher who used to call me Mr. Hupmobile," he said. "When I asked him why, he said there used to be car by that name. I researched it, and I always said when I grew up, I was going to get a Hupmobile."
Hupp eventually bought a six-cylinder 1929 Hupmobile Model A sedan. It is a workingman's car and much more modest than some of the luxury touring sedans with suicide doors driven by some club members, he said.
Hupmobile owners in the club came by their cars in different ways.
For Russ Bees, who drove his 1929 Century 6 from Indianola, Iowa, to Topeka with his wife, Marj, the appeal of the Hupmobile was the company's ultimate demise.
"It's an orphan car," he said, meaning the manufacturer is no longer around. "My wife and I both like orphan cars. And it's red. Most of my cars are red."
Walt Colton of Wellsboro, Penn., said he bought his 1931 model in 1958.
"I always wanted a roadster," he said. "I found this roadster, and it didn't matter what make it was."
Colton said it was exciting to tour Weller's garage because he was old enough to remember when dealerships were located in such downtown shops.
The tour was arranged by Don and Betty Smarker of Topeka, the host of the convention. As she listened to the club members' enthusiastic remarks about the garage, Betty said she wasn't surprised.
"My husband brought me here in January, and I knew why he wanted it to be on the tour," she said. "People say they don't have time in one lifetime to get everything done they want to do. After looking around his shop, I don't think he (Weller) could get everything done in two lifetimes."
The club members were greeted to De Soto by antique car collectors who regularly gather at Weller's garage on Tuesdays. They were as anxious to see the car's in the tours as the Hupmobile drivers were to see the garage. And although none owned a Hupmobile, all expected they would have a lot in common with the tour members.
"What I've learned through the years is whenever you get around a bunch of old car buffs they are going to swap stories, kick a few tires and always enjoy looking at other old cars," said Earl Lohuis of rural Basehor.