Coach nets state coach of year award for 2007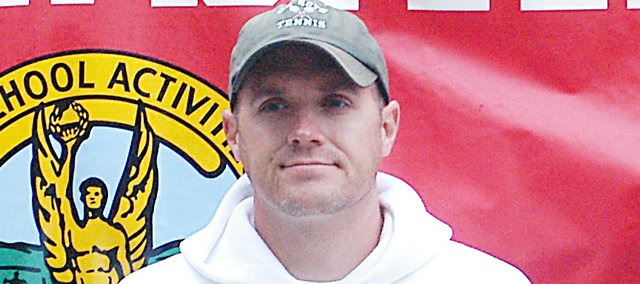 The award was prestigious, although the praise was modestly heaped on others.
So it goes with postseason coaching awards oftentimes, it seems, and it was no different with De Soto tennis coach Michael Sullivan. Sullivan received the 2007 Overall Girls Coach of the Year award by the Kansas Coaches Association.
"It all goes to what the kids have done. When they give this award out to the coaches they should come up with some kind of a medal or something to pass out to the kids," he said. "They are the ones that do all the work. It's a great honor for me, but it's all attributed to what they've done on the court."
It was Sullivan's leadership with the girls team in 2007 that netted him the award. The team consisting of state qualifiers Rebekah Gulley, Hana Lindbloom and Hannah Konetzni finished second in the state this past fall.
The doubles team of Gulley and Lindbloom finished second in doubles play, while Konetzni finished fourth in singles.
The previous spring the boys team also took second at state under Sullivan's tutelage.
In 2008 the boys took home fourth place overall at state with strong showings by singles players Matt Edwards and Andrew Konetzni.
After this year, Sullivan's seventh and third season at the helm of the girls and boys teams, respectively, Sullivan was recognized with the award voted on by his peers. It marked the third time he'd been recognized, but the first time he received the all-classes award.
In 2004 and again in 2005, the KCA awarded him the girls award for 4A classification.
It's an honor that casts some obvious visibility throughout the coaching community.
"Our program has grown so much over the past few years that I think they know us in 4A, but even some of the bigger schools are taking notice," he said. "We can play with some of the 5As and to a certain extent we've been able to play with some of the 6As.
"That shows some of how both the boys and girls programs have grown over the last few years."
Of the three girl state qualifiers from the 2007 squad, only Lindbloom returns in the fall for another go at a state berth, and she'll have to make the decision of whether to continue playing doubles, or switch to singles, where she's experienced past success as well. She's amassed a 13-1 record when split off in singles play in her varsity career.
More like this story