City fireworks show Friday at
DHS

stadium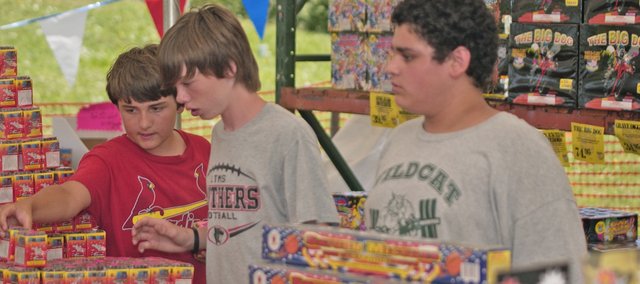 Small private celebrations of the Fourth of July began Monday as De Soto residents started shooting up the fireworks bought at three firework stands in the city.
The big community celebration will occur from 30 to 45 minutes after sundown Friday at the De Soto High School stadium. The De Soto City Council agreed this year to contribute $8,000 to the show.
De Soto City Administrator Pat Guilfoyle said Johnson County Sheriff's deputies will on hand Friday to ensure fireworks on the school property were confined to the official show.
The show will be final one scheduled for the stadium. The plan is to move the show to the De Soto Riverfest Park on 79th Street next year.
The Fourth falls on Friday, the first day of a three-day holiday weekend. That may tempt many to extend the use of fireworks further into the weekend despite the city ordinance that bans use past midnight on the Fourth. Guilfoyle said he hoped the end of fireworks sales Friday would limit their use Saturday and Sunday.
Most cities in Johnson County ban fireworks and they are also forbidden in the rural areas of the county. A statement released by the sheriff's office Tuesday said extra patrols would be out during the holiday to enforce the ban.
At 1 p.m. Tuesday, Cheri Hamilton characterized business at the De Soto High School football team's stand on Commerce Drive behind Gulley Carpet as "steady."
"We're expecting it to start picking up," the mother of two Wildcat football players said.
The VFW has had a stand since 2006, the first year the city lifted a ban against selling and using fireworks in De Soto. That gave the two men's auxiliary members manning the stand Tuesday afternoon, LeRoy Kramer and Bob McGraw, perspective on business.
"It's slow today," McGraw said. "It really starts picking up closer to the Fourth."
The two men said youngster accounted for most of the business at midday and that didn't make for big sales. Parents would start coming in with children later in the afternoon, as they did Monday, and business would increase, they predicted.
Last year, four stands in the city raised $17,000 for four non-profits organizations. The VFW and the De Soto Wildcat football team have returned for a third year to be joined by Faith Builders International.
More like this story