Instructor warns Jazzercise often becomes can't miss addition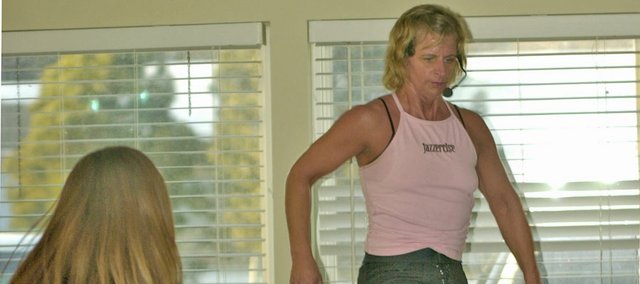 Terry Edmondson is one of a contingent of Starside Elementary School teachers who has found a new afterschool activity.
"I get out of school at 4:30 and fly straight here," she said.
Here is the temporary fitness gym at Lexington Plaza, 32565 Lexington Ave. Since early December, Jacque Tummons has been offering Jazzercise classes in a converted office.
New to De Soto with the franchise fitness program, instructor Tummons has been involved with the Jazzercise program for eight years.
I had a 4-year-old girl and just turned 30," she said. "I decided to do something for myself. I wasn't happy with the way I looked."
That got her involved with the fitness program, which became a livelihood after the birth of her second child.
"It seemed like the perfect time to become an instructor," Tummons said. "I could go to classes with her and spend time with her. I could be at home and make a living."
Tummons started as a Jazzercise instructor in Olathe for two years before deciding she wanted to try offering her own classes. Since then, she has offered classes at Cedar Creek and Lawrence. Last year, Tummons brought the program to Eudora, but found few customers. After discussions with her district manager, she decided to bring Jazzercise to De Soto.
"I've had more people sign up in the first month, which is pretty good, and I still have people coming in the door."
What she needs now is more space, Tummons said. That is on the way.
She will offer her Jazzercise classes at the De Soto Athletic Center that Andrea McCoy and Brenda Clark are opening in The Commons next to their Kiddie Korner Daycare. The date of that opening is still uncertain, but Tummons said the move should happen in mid-February.
"It will give me the room to really do what I want to do with my classes," she said. "It will have showers and everything, so those women coming to the morning class can shower and go straight to work."
Jazzercise is a 30-minute cardio workout to music followed by a 25 minute strength conditioning and stretching routine, Tummons said.
"It's for all ages," she said. "Everybody does what their heart rate can handle."
Music Jazzercise provides its instructors every three month helps keep the program fresh and fun, she said.
"We learn new routines," she said. "Instructors learn routines they like. We don't all use the same music. That's where the individual instructor comes in."
But at the same time, the fact that instructors are working from an inventory of shared routines creates uniformity among Jazzercise franchises.
"You can buy a ticket and any Jazzercise facility and go anywhere in the country and have the same songs, or some of them," she said. "I've got people who have a ticket with me but on the weekend they go to Lenexa or Shawnee or Olathe."
As she switched from the cardio workout to strength conditioning, Edmondson agreed with Tummons assessment that Jazzercise was addictive.
"I've been doing it for three weeks," she said. "I wouldn't miss it."
"It's good for the heart," fellow Starside teacher Lena DeHoff said as she worked out beside Edmondson.
Tummons offers class at 4:30 p.m. everyday, 7:30 p.m. Monday through Thursday, 5:45 a.m. Monday, Wednesday and Friday, 9 a.m. Monday through Friday and 8:30 a.m. Saturday and Sunday.
Tummons also plans to offer a junior class for children 4 through 11 years of age.
"It's a really fun program for them because they learn exercise is fun and gives them something to do rather than sit around and watch TV or play Xbox."
To learn more of Tummons' Jazzercise class, call her at (913) 709-1098.
More like this story