Cat boys finally let one slip away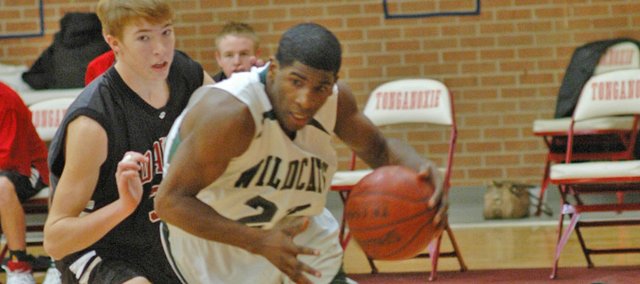 It was all there for De Soto near the end of the Tuesday's game at Louisburg.
Andre Linzy stole the ball as a part of the Wildcats' vicious press. Senior leader Travis Crow grabbed an offensive rebound and put back a critical basket.
Linzy even sank one of his now-trademark shots, one of those three-pointers that slides in from so deep it looks like he's competing for a prize at halftime.
The Cats called a quick timeout immediately afterward preparing to again lay on the defense and again try and force another turnover.
Close games and late comebacks have almost become the norm for the Cats this season.
Had they played up to their norm in the first three quarters, the fourth's scurrying might have counted for a little more.
De Soto lost its seventh game of the year Tuesday, falling 65-57 at Louisburg, but the Cats failed to play it close for the first time since 2007.
"We had a bad practice (Monday) and it carried over," De Soto coach Jim Bonar said.
The team will look to regain it's momentum Friday when it travels to Spring Hill. There's plenty of reason to believe De Soto will show up motivated, too - many of the same reasons it might have overlooked Tuesday's contest.
Spring Hill is one of seven other teams the Cats could eventually face in the all-important sub-state playoffs. The game also will count in the race for the Frontier League, a derby the Wildcats are currently right in the think of.
De Soto has three league teams scheduled twice during the season, a maneuver that partially fills the gaps left when five teams left the league over the summer. Only the Friday games count toward the league standings, however.
The Cats are currently 3-2 against league teams, but have won all three Friday showdowns.
They added a key notch Friday in knocking off Baldwin, a key competitor both in the league and sub-state, 54-48.
De Soto has a chance to add a fourth league-standings win in Spring Hill.
"We're glad that (game against Louisburg) wasn't our league game," Bonar said. "I don't know if the guys take it differently or what. Several of our shooters were just ice cold."
The team didn't waste time hiding its lack of focus Tuesday.
Linzy lead the team with 16 points, but Jamell Townsend, who added 12, scored the first bucket of the game. Louisburg quickly reeled off the next three. It took a 13-11 lead into the second quarter and a 27-20 advantage into the second half.
De Soto's Brendon Hudson scored his team's first five points of the third quarter, draining a three-point shot and hitting a pair of free throws. But Louisburg scored on a fast-break layup by Jordan Embers, the game's leading scorer with 28 who then made four free throws and Kyle Nauman cleaned up a missed shot on another fast break to put his team up 49-34 after three.
De Soto's deficit stretched to 19 - 54-35 - before it finally started to shrink.
It was too late, however. Crow hit a trey and Linzy scored nine points in the final five minutes. Louisburg made all six free throw attempts in the quarter, however, and never allowed De Soto within two possessions.
A lack of aggression on offense and defense throughout the game and a solid beating in rebounding proved too much
"We were able to switch it on at the end and that helped bring it back," Bonar said. "We lost in rebounding for sure. We also couldn't make any layups - probably missed 10 points in layups in the first half alone."
"I don't know if it was a lack of needing to win it, but we'll turn this around quickly."