Boundary changes anger school patrons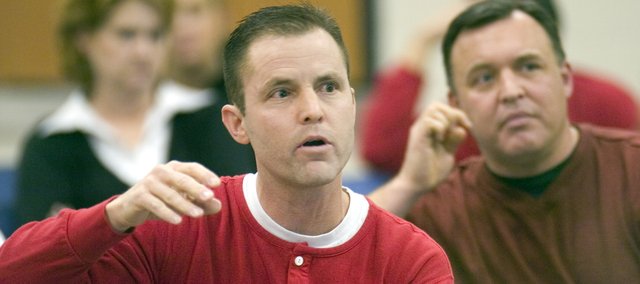 Red. It's the color of passion and rage, but for western Shawnee residents who could be affected by another round of school boundary changes, it has an even deeper meaning.
"The red means 'Stop moving us around,'" said Chris Schulte, a resident of the Monticello Farms subdivision.
Schulte and about 100 other residents, most of them wearing red, voiced their concerns Monday at the De Soto School District's community meeting at Horizon Elementary School, which Superintendent Sharon Zoellner organized to address questions and concerns about proposed boundary changes for middle school students.
Zoellner earlier this month presented a plan to the De Soto School Board that would change attendance areas for Mill Creek and Monticello Trails middle schools. The plan would be temporary and calls for all students in the Horizon Elementary School attendance area to attend Mill Creek in the 2009-10 school year. The shuffle of students would open up four classrooms at Monticello Trails for use by Mill Valley High School students as satellite classrooms. The plan is not final and will be discussed by the school board at its meeting Monday.
However, many residents in the Monticello Farms and Woodland Park subdivisions, questioned Monday why their students should be bused more than five miles to Mill Creek when they live within walking distance of Monticello Trails.
Why this plan?
It all goes back to failed bond referendums.
"The reason we are in the situation we are in is we are not successful at passing bond issues," Zoellner said.
Voters rejected two bond referendums, in November 2006 and September 2007, which called for additions at both high schools.
School administrators presented the proposed boundary changes as a response to the needed space for high school students in the district, Zoellner said Monday. By the 2009-10 school year, the district will reach its capacity of 1,750 high school students with a projected enrollment of 1,080 students at Mill Valley and 670 students at De Soto High School. Building capacity is 1,000 students at Mill Valley and 750 students at De Soto High.
"We are behind the eight ball right now," Zoellner said.
The idea for the plan first came up in November 2007 at a special board meeting to address the district's growth. At that meeting Learning Services Director Bret Church discussed the pros and cons of options available to address the district's immediate growth.
Church said earlier this month that the satellite classrooms seemed like the best option when looking at the two most important criteria.
"We wanted to make sure it was educationally appropriate and that it affected as few students as possible," he said.
The current plan would affect about 120 students, Operations and Planning Director Jack Deyoe said.
Other options
When the plan was proposed Jan. 14, school board members did not get a chance to discuss its implications or ask questions. And it isn't the only plan available. In the two weeks since, district administrators have been crunching numbers to determine if there was another way to numb the growing pains for a bit at Mill Valley until voters pass a bond referendum that calls for more space at the district's high schools.
One option that has been discussed includes a similar plan that would leave students who live in the Woodland Park and Monticello Farms subdivisions in the Monticello Trails attendance area. However, it would mean larger classroom sizes, Zoellner said.
Human Resources Director Mark Schmidt said that probably would mean about 25 students per class.
Another option includes removing the ninth grade students from the high school and into a middle school. However, Zoellner said that put limitations on the opportunities available to those students.
"When you do that your freshmen are isolated from the high school experience and we didn't think that was a viable option," she said.
Church said it also would affect the district's Opportunity to Learn format. Opportunity to Learn allows students in the ninth and 10th grades to take state assessments early; if they meet the requirements, students don't have to take the test in 11th grade.
Patrons also questioned why modular, or mobile, classrooms couldn't be used. Zoellner said the city of Shawnee, where Mill Valley is located, would not approve temporary structures like a modular unit unless a plan was in place to have a permanent structure built within two years. Until voters pass a bond referendum, this isn't an option, Zoellner said.
Modulars also cost money. A portable unit can cost $60,000 to $100,000 according to the district and it could cost an additional $80,000 to $100,000 just to set the structure in place, run water and sewer lines and connect it to electricity.
Community concerns
Consistency seems to be the biggest concern from patrons who would be affected by the changes regardless of their position on them.
Maribeth Brennaman, who 18 years ago moved into the first and only home in Woodland Park, said she wanted consistency for her fifth-grade daughter, who has attended four elementary schools since she started kindergarten, including Woodsonia, Clear Creek, Prairie Ridge and Horizon. She said sending her daughter to Mill Creek would put her in another situation where she wouldn't know the parents of her daughter's friends.
"I want to go back where I know those people because my child is going to go into middle school, which is the worst time in a child's education," she said. "I want to know those parents. I don't know anybody there. You need to know who your kids are hanging with, you need to know who their friends are and you do not get that with a continuous switch at a higher grade level."
Stacey Wooden said she also wanted consistency for her fifth-grade daughter, although she would be happy with her daughter attending either middle school.
"I don't care what school she goes to because I've heard good things about both," she said. "At the beginning of the year my daughter said, 'I want to go to Mill Creek. All my friends are going to Mill Creek.'"
Another concern with the proposed plan is the safety and security of allowing Mill Valley students to walk to Monticello Trails.
Zoellner assured patrons that high school students would be separated from middle school students and there would be no interaction between the two groups of students, including in the restrooms. She also said more administrators would be placed at Monticello Trails to monitor the safety of students and that doors to the school would be locked as usual except during passing periods when administrators would be present at the doorway.
Church said earlier this month that passing periods likely would be extended and that students would not change classes at the same time as the schools have different class schedules.
Jennifer O'Grady, who moved to Woodland Park thinking her children could walk to school, said she was concerned about the cost of busing more students to Mill Creek who currently can walk to Monticello Trails.
The state of Kansas reimburses the school district's busing costs for students who live more than 2.5 miles away from the school they attend. O'Grady said although patrons were not paying that cost initially out of their own pockets, it is still a cost taxpayers statewide eventually must pay.
"I am sorry that is ludicrous and that is being irresponsible," O'Grady said.
O'Grady said she also was concerned about the value of her home decreasing if the boundary changes included Woodland Park.
"When people try to sell their homes here they will have to say 'Oh you can't go to that middle school or that high school, you have to get bused,'" she said. "I think people look at that when they are looking at homes."
The district isn't finished hearing from Woodland Park and Monticello Farms residents. A petition is circuling that is against the proposed boundary changes.
Zoellner said the patrons' concerns would not go unnoticed when the board discusses the boundary proposals next week. She even asked Bill Fletcher, the only board member in attendance at Monday's meeting, if he would promise not to allow a vote on the boundary changes next week, and Fletcher agreed.
"When you can throw a stone and reach your school and we're saying put your child on a bus and go five or six miles away, I understand those issues," Zoellner said.