Eaglemania
Class brings close-up education of national bird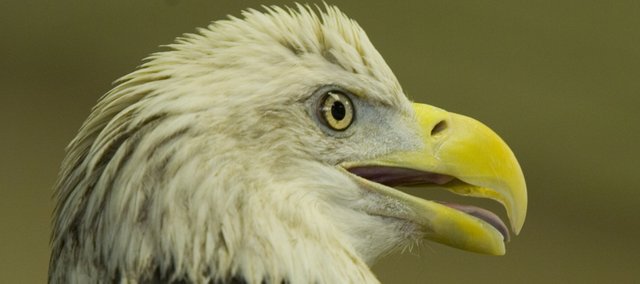 You don't have to be little to be impressed at the sight of a big bird.
The Mr. and Mrs. F.L. Schlagle Library's seventh Eagle Day had a lot of stuff for kids to do, including crafts and learning activities such as making an eagle sack puppet, puzzles, coloring pages and eagle books.
But it wasn't just children enjoying the event, which included two presentations featuring a female bald eagle with a wingspan measuring 7.5 feet. The majority of the approximately 200 people attending the day's two eagle presentations were adults.
Wildlife volunteer Bill Whinery's visual aid was a bald eagle named Moose, which Operation Wildlife acquired after the bird was spotted collapsed in Yellowstone National Park in 1994. Moose had eaten a poisoned gopher, and broke her wing and shoulder in eight places, Whinery said. She's recovered, but Whinery said because the bird can't fully extend the left wing she can only fly in circles to the left, which means she can't be released into the wild.
As Whinery spoke, Moose stayed mostly on a perch to which she was tethered, but the bird did try to fly off a few times. When she reached the length of the tether Moose landed loudly on the floor, which caught the audience's attention. The eagle did that when she's nervous, Whinery said.
Moose got her name because the director of Operation Wildlife - an organization that rehabilitates injured and orphaned wild animals - said she was "heavy as a moose," Whinery said.
Michael Kennedy, 13, was one of the lucky few to be called upon as a volunteer during the presentation. He demonstrated, with the help of a 15-pound-weight, just how hard it is to hold up the approximate weight of a bird as big as Moose, who weighs 17 pounds. That's a bit more than the 10- to 14-pound average for females, which compares to 8- to 10-pounds. for males, Whinery said.
Michael, who is from Kansas City, Kan., said it the hunting abilities of bald eagles were the most interesting thing he learned.
"The fact that they can land on animals with such a force," Kennedy said. "They kill instantly what they touch."
In fact, a bald eagle can reach speeds up to 100 mph when diving for the kill, Whinery said.
Impressive as that might be, there's another interesting evolutionary adaptation in bald eagles' talons: even if it wants to, the bird can't let go its prey until it lands on solid ground. So, if the bird grabs a fish that's more than half its body weight - which would be about 8 pounds for Moose if she were still able to hunt - the bird will get pulled down with the big fish as it struggles or dies in the water.
So, it's no surprise that eagles have powerful eyes, which helps prevent such fatal errors. As Whinery demonstrated with a couple of placards, a a fish would appear several times larger to a bald eagle than a human.
Some of the most interesting facts in Whinery's presentation were numbers relating to bald eagles. Mature ones an average of 7,182 feathers. That is dwarfed by the tundra swan's average of 26,512 but better the 984 on a hummingbird.
And the talons of a bald eagle can grab their prey with 180 pounds per square inch of pressure.
The animal has made a big comeback since the 1960s, when there were just 460 known nests in North America, Whinery said. Bald eagles had become endangered as a result of eating animals that had ingested the pesticide DDT, which made the eagles' egg shells brittle.
There are now 11 bald eagle nests on the Kansas River, Whinery said.
"2007 was a great year for eagles in Kansas," he said, with 27 babies being born, and a record 49 birds total. Just more than 2,000 wintered in Kansas, and about 6,000 are in Missouri now.
The bird is off the endangered species list but still protected under federal law. The mere possession of a bald eagle feather is punishable by a $10,000 fine.
More like this story