Shot to the heart
De Soto takes two thanks to Linzy's big shot, huge points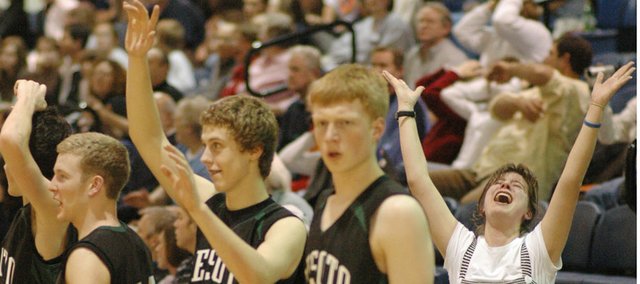 To say it would have been hard to imagine doesn't even really do it justice.
A year ago at this time the De Soto boys basketball team wasn't just desperate for a win, it was desperate for a positive. It was blown out in the first two games of a tournament at Spring Hill, then went on to finish eight out of eight by losing the last game to an equally miserable Osawatomie team.
A glistening path to the championship game of the Tonganoxie Invitational wasn't even in the realm of realistic. Yet here the Wildcats are - following Monday's closer-than-the-score 60-44 win against Silver Lake, they will play Atchison, a team they've already faced, in the tournament's semi-final.
"This team is 10 times better than it was last year," senior Erik Hill said. "We have a lot more heart than that team. We also have a lot more players than can do things.
De Soto will play the Redmen Friday at 7:30 p.m. for the right to face either Lansing or Rossville in the tournament's 7 p.m. Saturday championship game.
If the Cats are to continue with their turnaround, they'll have to play better than they did the last time they saw Atchison.
The Redmen beat up De Soto with a full-court press, turning long strings of Wildcat turnovers into easy points. Atchison led by 21 late in the third quarter before a De Soto rally helped make the score more respectable.
The Cats crawled to within five after sinking two desperate three-point shots before losing by seven, 52-45.
"This is a sub-state practice," Bonar said. "We wanted to win the first one and keep on playing. We already know the other team and they know us, so we're going to go out and slug it out again."
De Soto rode senior guard Andre Linzy to both the Silver Lake win and Friday's win against Eudora, a 68-60 double-overtime victory. Linzy had 23 against the Eagles and 28 against Eudora, including a game-tying three point shot in regulation and eight points in overtime.
That Linzy and several other key players were able to play the entire way may have made the difference in both games.
Linzy fouled out in the only game De Soto has lost since the first Atchison loss, a 55-49 loss to Gardner in which the Cat star played less than 90 seconds in the second half.
De Soto trailed early against Silver Lake, down 22-11 midway through the second quarter, and the team's top three scorers - Linzy, and forwards senior Erik Hill and junior Jamell Townsend - were all stuck on the bench with two fouls.
The Cats got help from Brendon Hudson and Paul Stallbaumer, however. Hudson hit a three-point shot to spark the team and Stallbaumer scored four points in the second quarter to help fill the massive hole left in the post by Townsend and Hill.
"Paul came in and played excellent," Bonar said. "He played seven minutes - that's as much as he's played all season. He did a great job in there battling with some of the big kids."
When the team's top players returned, they too helped haul the team out of the hole.
Linzy, truly showing how easy he makes it look, sank a three. De Soto was inbounding the ball and he stood at the top of the key, arms at his side and completely unprepared for the pass that a second later was hurtling his way.
He reached one arm out and reeled the pass in, pulled it to his chest and unleashed a perfectly accurate shot. It swished through the net and without even moving his feet, Linzy pulled De Soto within two points.
The game remained close through the end of the third quarter when again De Soto clicked and changed everything.
Silver Lake made a free throw with five minutes, 56 seconds remaining. De Soto scored every other point in the game, finishing the contest with a 15-0 run.
Hill put the Cats up three with a short hook shot, his first points of the game. Minutes later he sank back-to-back three pointers to make a six-point advantage 12.
"I told them 'No more overtime,'" Bonar said. "We weren't fired up when we came out to play. We came out flat, and we didn't do what we'd worked on.
"We were looking at this as a one and done situation. We want it to be just like sub-state."
It's probably good the game didn't stay exciting. Bonar might not have been able to handle anything too taxing following Friday's double-overtime chest-pounder.
Linzy was again spectacular, his 28 leading all scorers. His most important shot came with just five seconds remaining in regulation.
De Soto had trailed the entire game - by five points after one quarter, by nine after two and by 10 with four minutes remaining in the game.
A three and a pair of free throws from Travis Crow, a three from Linzy and three free throws from Townsend pulled De Soto within three when Linzy tied it at 51 with five seconds remaining, banking a three off the glass from the top of the key.
Linzy tied the game at 54 in the first overtime with a 15-foot jumper, then scored six points in the second overtime, helping De Soto to the win.
He had plenty of help in both games - Hill had his best game of the season against Eudora with 15 points and Townsend joined them both in double figures with 13.
Travis Crow picked up a key assist by feeding Townsend for the first bucket of the second overtime. Crow's seven points also accounted for one of his best scoring games of the year.
It all adds up to a situation one year ago no De Soto player could have predicted
"It feels great," Hill said. "We used to always be playing the loser's bracket right away. We'd play one tough team and that'd be it. Now it feels good to be playing for the championship game.
"We really need to focus on the next one."