Noteworthy achievement
Four De Soto High School students make all-state band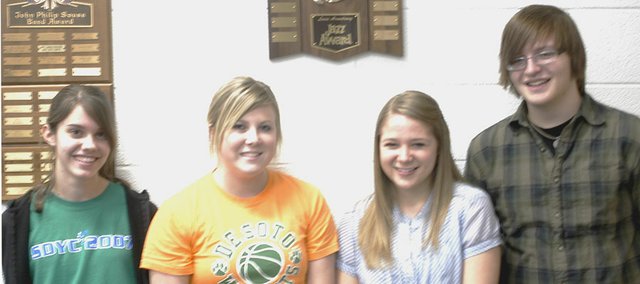 Music is an outlet for clarinet player Jenna Hodges, and when she really gets into a song, it's special.
"It's like everything disappears sort of," she said. "You just kind of get caught up in the music."
Jenna, along with three other students from De Soto High School made the Kansas Music Educators Association 1A-4A All-State Band.
Melissa Just was named seventh-chair flute, Rebekah Gulley was named ninth-chair clarinet, Jenna was named 10th-chair clarinet and Scott Ireland was named the first-alternate for mallet percussion.
They haven't yet received their music, but when it arrives the students will begin rehearsing for their big performance at the KMEA Music Convention Feb. 28 to March 1 in Wichita. The students will perform with David Holsinger, a world-renowned composer and conductor with roots in Kansas and Missouri.
To try out for the state band, the students prepared music selections that were assigned to them based on the instrument they play.
"We played the same piece that we played for district tryouts," Rebekah said. "We just had to keep practicing that music."
Before going in to tryout, the students had to calm their nerves.
"I was really nervous when we were sitting outside the room listening to other people play," she said.
When trying out students go into a room to play for the judges, but the judges can't see the student, Scott said.
"You just have a number so they don't see you. So they just have to judge on sound, and they can't be biased in any way," he said.
All but Scott take private lessons on the side, and most of them started playing at a young age.
Rebekah said he plans on playing an instrument for fun while in college.
"It's not the career I want to have really," she said.
Scott, however, said he did want to pursue music.
"I am going to Baker to major in music education," he said.
Scott also is trying his hand at writing music.
"I am working on writing for different instruments," he said. "I have an ensemble with other students."
De Soto High School instrumental music instructor Justin Love said selection to the All-State band is among the very highest honors a high school musician can achieve. Seven De Soto band students auditioned with 650 students for the All-State Band.
"Typically it should be the most musically involved and most musically rewarding experience they've probably ever had," Love said.