Hunters' donations take aim at hunger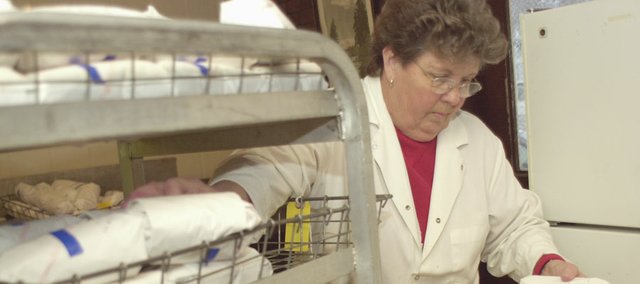 Bob Bergeson is part of a unique food chain.
It is a chain that starts with a resource that roams the state's fields and timbers and includes stops at a number of local meat processing plants and social service agencies before ending up on the tables of low-income families. Every year, Bergeson donates two of the deer he takes from sparsely populated western Lenexa to Farmers and Hunters Feeding the Hungry.
"With this program, everybody wins," the Overland Park bow hunter said. "The landowner wins because hunting reduces the herds that do considerable damage to crops. The hunter wins. In my case, I get to be in the great outdoors doing something I greatly enjoy. And the hungry win because from everything I've read venison is an extremely healthy source of protein."
Working with Farmers and Hunters
Feeding the Hungry, Bergeson delivers his deer to Steve's Meat Market in De Soto where it is processed at a discounted rate of $75 per deer. Mitch Prudden, co-owner of the family-owned plant, said deer donated to the program were processed and ground and then made available to local social service agencies.
"The hunter doesn't have to pay for anything," Prudden said. "That's good, and they get a charitable donation they can write off on their taxes."
This year, De Soto Multi-Service Center director Jodi Hitchcock has filled her food pantry's freezer with venison from nine deer processed at Steve's Meat Market and delivered meat from 16 other donated deer Friday to Olathe. There, it was distributed to three other Johnson County multi-service centers and Catholic Charities of Olathe.
"We've gone through quite a bit since we got the nine deer here in mid-December," said Hitchcock, who estimated the venison had been distributed to more than 50 local families.
That was what Farmers and Hunters Feeding the Hungry founder Rick Wilson envisioned when he conceived his unique ministry in 1997 after witnessing a desperate Virginia single mother poach deer to feed her family, said the director of the organization's Kansas chapter, Tony DeRossett of Tonganoxie.
Deer donated to the program produced an average of 50 pounds of ground venison, and the 800 deer donated statewide this season would produce 160,000 servings at dinner tables around the state, DeRossett said.
That feeds a lot of hungry Kansans, but the program has another benefit, DeRossett said.
"There were roughly 10,000 vehicle deer accidents in the state," he said. "We try to concentrate our efforts in the most accident-prone areas, working with the state. Those have dropped down."
Hunters who donate deer include those like Bergeson who take more than they can eat, those who don't like venison or have family members who don't care for the meat or out-of-state hunters who don't want to go to the trouble of transporting a carcass home.
DeRossett said he and "four or five other dedicated" volunteers have worked to grow the Kansas chapter since its founding in 2001, when 180 deer were donated. It now gets donated deer from about 70 of the state's 105 counties, he said.
What limits the amount of venison reaching qualifying low-income families is the $75 processing fee paid to the program's 48 participating locker plants. That forces him to focus much of his efforts on fundraising, DeRossett said.
"That's what causes me the most stress," he said. "We run out of funds each year.
"All the meat goes to a licensed, inspected plant, so we know it is all good meat and nothing we wouldn't feed to our own families."
One big asset is a $2 fee hunters are asked to contribute to help with the processing when they seek hunting permits.
"We raised $25,000 through that a year," he said. "We're just depending on vendors to remember to ask that question when they give out the applications."