Aggressive play, sharp shooting leads Cats to promising run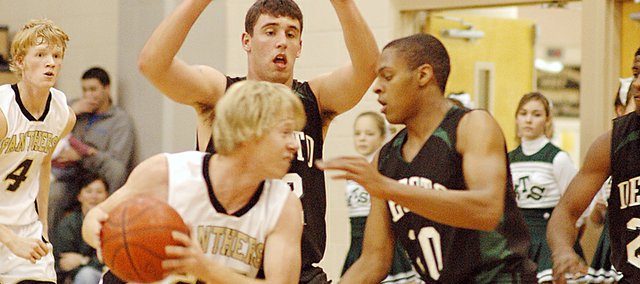 The De Soto boys basketball players filed out of a post-game meeting with their coach, disappointment engraved on their faces, sadness slumping their shoulders like an anvil around the neck.
"It's pretty frustrating," junior guard Brendan Hudson said.
"A tough one," classmate Jamell Townsend echoed.
Yes, these are different days for the De Soto Wildcats. The team lost at home Tuesday, falling 55-49 to Gardner Edgerton. Aggravating? Sure - De Soto let a two-point lead slip away over the final two minutes.
But perhaps the lingering frustration does more than show just how far this team has come in the last year than anything else.
De Soto had that lead - thanks to a clutch top-of-the-key three-pointer from Hudson - despite playing the vast majority of the game without its foul-ridden star, Andre Linzy; despite getting only two baskets from Townsend, the team's second leading scorer; and despite trailing big early and often.
The players were that frustrated despite just missing against one of the Frontier League's perennially-powerful teams.
"Last year we would have rolled over in a game like this," Hudson said.
That this was an entirely different team than that three-win squad was obvious twice in the last seven days. There was no rolling over as De Soto battled back from 12 down Tuesday, nor when it also rallied from a seven-point fourth-quarter deficit Friday in a thrilling 69-65 overtime win at Paola.
Hudson helped spark the Cats in both games.
Tuesday, his shots came as Linzy, the team's leading scorer, was banned to the bench.
Linzy tallied three fouls in the first half, then added a fourth less than a minute into the third quarter. He was brought back on with 40 seconds remaining in the third, but was fouled out less than five seconds later with a charging call under the Gardner basket.
The loss was obviously a doozy for the Cats, but even more so as Linzy appeared to be destined for a highlight night. He left his defender bamboozled on the opening play of the game, ditching him with a hard crossover dribble before taking a step back to sink an easy three-pointer.
Linzy then intercepted a pass on Gardner's ensuing possession, gliding down the court for an easy layup and a 5-0 lead.
He scored later on another easy layup after nabbing an impossible-to-touch inbounds lob, the kind a kid only throws because he knows it's safe and his five seconds are nearly up.
"We just don't melt when one of our main guys or two of them aren't in," Bonar said. "There's a lot more confidence between each other. Rather than one guy being confident that he can do it, there's more confidence in all the teammates."
Linzy only finished with 10 points. Hudson led the team with 14.
He scored with a sweet kiss off the glass while cutting through the lane early in the third quarter, a move than drew a foul. The made free throw pulled De Soto within five, 29-24.
Tommy Elmer hit a three-pointer to make it four, but De Soto didn't get closer again until Hudson again answered for three, this time sinking an open trey to make it 43-41.
He finally put De Soto in front for the first time since Linzy made it 5-0, swishing a long ball through the net for a 47-45 advantage with two minutes, 40 seconds to play.
"I knew he could do it," Bonar said of Hudson's recent hot shooting. "The guys I had green-lighted last year are still green-lighted. If I see them come off the court in a game or practice frustrated I do say to them, 'Keep putting it up.'"
The shot wasn't enough to end the game. A quick answer pulled Gardner even and a series of turnovers in the waning minutes let the Trailblazers pull away.
Even in a loss - especially in this loss - there were lessons to be had.
"It helps our confidence a lot to know we don't need (Andre) on every single play," Hudson said. "We know we can do it without, but he's a great, great guy to have with you."
De Soto came a lot closer to a disappointing letdown Friday against Paola.
The Cats had the winless Panthers all but finished in the first quarter, a scathing full-court press helping De Soto to a 18-3 lead.
Paola slowly got back in the game, however. Again plagued by foul trouble, De Soto dropped into a zone, which was eventually picked apart.
The lead was down to seven at the half and completely gone at the end of the third quarter. A Paola three-pointer opened the fourth, giving the Panthers the first lead of the game.
De Soto was outscored 19-11 in the third quarter and managed just four points in one astounding 10 minute, 21 second span.
Linzy was a part of the solution this time, however. Hudson hit a three-pointer to cut De Soto's hole to 55-51, then Linzy slashed through the lane to cut it to two points.
De Soto trailed by four again with 17.8 seconds remaining, but Paola missed two free throws. Linzy got the rebound and went baseline to baseline, laying it in. A quick foul and a one-for-two trip to the free throw line for the Panthers left De Soto a chance.
Again it was Hudson, he of just five successful three-point attempts in his first 20 this season, this time connecting from the corner as time expired.
"Travis (Crow) dribbled up the court and passed it to me," Hudson said of the game-extending shot. "I shot it and I couldn't even see the basket. I just watched the ball come out of my hand and everyone started cheering. I was pretty far back against the baseline and the kid (on defense) was taller than me, so I couldn't see it."
"I'm putting up more shots in practice instead of just messing around when I have the chance to shoot. My confidence wavered at the beginning of the year, but it's back now where it was last year."
Linzy scored the first two baskets in overtime as he, Townsend and Erik Hill all fouled out in the extra period. It was enough, however, along with free throws from Elmer and Hudson.
"We're not in a crisis situation at all. We've won four of our last six and (Gardner) wasn't a team we thought we'd roll anyway," Bonar said. "They're one of the top teams in the Frontier League. We could have rolled over and died.
"We're glad we've faced this pressure because this is the kind of pressure Eudora will put on us Friday."
The Wildcats and Cardinals will tip off at 7:30 p.m. Friday in Eudora. The Cats will be looking to back-up their double-overtime win in the series from a year ago.