De Soto housing starts fall off roof in 2007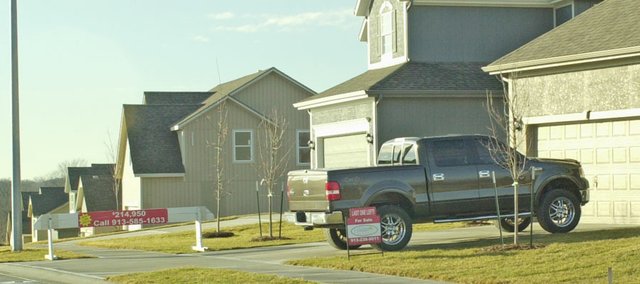 After notching from 30 to 50 new home starts annually this decade, De Soto saw a sharp drop in new home construction in 2007.
City of De Soto building inspector Steve Chick said the city recorded 11 new home starts in 2007 with nine new homes and a duplex.
The local housing construction slump reflects a metropolitan and national trend. New home starts in the metropolitan area are down 45 percent and November saw the lowest number of U.S. housing starts since April 1991.
Among the causes for the slump are said to be higher energy prices, a oversupply of new home stock as builders sought to take advantage of what had been a strong market and questionable lending practices that encouraged many homebuyers to purchase homes with flexible mortgages they couldn't afford when interest rates increased.
De Soto's dismal 2007 isn't unique. Eight miles west on Kansas Highway 10, Eudora, which had added about 100 new homes annually during the boom years earlier this decade, issued just nine permits for single-family homes last year. The Kansas City Homebuilders Association reports through November (the latest month numbers were available) new home starts were down 34 percent in Lenexa with 109 fewer residential starts, 26 percent in Olathe with 206 fewer starts, 20 percent in Gardner with 53 fewer starts, 17 percent in Shawnee with 43 fewer starts and 26 percent in Johnson County with 606 fewer starts.
Buyers' market
Kansas City Homebuilders Association spokesman Matt Derrick said some of the causes for the national slump didn't apply to the metropolitan area where there were fewer of the adjustable-rate and sub-prime loans that have proved so troublesome.
Nonetheless, there has been a great deal of consumer caution in the housing market, perhaps caused by poor job growth in the metropolitan market, Derrick said. That reluctance contributed to an inventory glut of new homes that is slowly being whittled away.
"At its peak, we had an inventory of 5,800 homes," he said. "That's dropped by 1,200 that's been shed in the year and half. We're making some headway, but you'd like to see existing inventory with about 1,800 fewer homes."
Still, the association's report does indicate the slump wasn't universal. Sixty-four new homes were built in Tonganoxie through November or 24 more than in the first 11 months of 2006, and Basehor was building at the same pace as 2006 with 106 new homes.
Tonganoxie City Administrator Mike Yanez said several factors contributed to that city's success. Tonganoxie benefited from a spill over from growth in western Wyandotte County and had plenty of sewer and water capacity readily available for new housing construction, he said. In addition, he said residents of the region were becoming aware of the community's proximity to the metropolitan area and Lawrence.
"We're 20 minutes from downtown Kansas City on a four-lane road," he said.
Tonganoxie also hit the market, Yanez said. Builders in that city are producing homes costing from $170,000 to $230,000, he said.
"Considering the cost of an average home in Johnson County, Tonganoxie is a good fit right now," Yanez said.
Derrick said the entry-level housing market was strong in the metropolitan area but often ignored.
"For the most part, the first-time buyers' market has performed very well," he said. "There's a big demand for homes under $200,000, but we're not providing it."
Many cities discouraged entry-level housing in favor of more expensive subdivisions and builders were more comfortable with those homes because of experience and profits.
By contrast, the "secondary market" of homes from $250,000 to $600,000 had the greatest inventory, Derrick said.
The city's only active subdivision served by sewers, Arbor Ridge, was to offer homes from about $240,000 and up. That's the case, too, with Timber Lakes, which only has a few lots left, and two subdivisions set to start next year in the same area north of 87th Street, Cherokee Woods and Brook West.
Arbor Ridge has first sales
After a challenging year, five of the 16 homes built in the Arbor Ridge subdivision have sold, said Beckie Lobe, a realtor with Graham-Welch and Associates. A sign in front of one of the homes proclaims the bargain price of $214,000, and Lobe said prices were dropped to spur sales.
"All on bargain homes have sold," she said.
With five homes sold, Arbor Ridge will start to look more like a neighborhood, Lobe said.
"That's been one of our biggest drawbacks," she said. "People want to know what it's going to look like."
Home shoppers know the quality of Lambie-Geer developments, Lobe said, and traffic has been relatively good with many couples from Lenexa, Shawnee and Olathe looking for something a bit farther away for the city or couples from Lawrence with one spouse working in Lawrence and one working in the metropolitan area.
She is optimistic the development is positioned to take advantage of De Soto's industrial growth, Lobe said.
"I think if you call me in six months we'd be talking about how well everything is going," she said.
The only thing holding back new home sales now is consumer doubts, Derrick said. It was a good time for potential homeowners to get in the market, he said, and ignore the reports of problems elsewhere in the country.
"We had a housing authority here recently who said it makes as much sense to talk about a national housing market as it does a national temperature," Derrick said. "There is no such thing."
Tempering Derrick's optimism was talk of the U.S entering a recession.
"Certainly, one of the leading indicators of the housing market is the job market," he said. "For the most part, we've been pretty weak in that area. If we get into a broader slowdown, it is certainly something that will have a bad impact on the housing market."