Happy to be a-long
Stretched-out transfer quick to lend Wildcats an important hand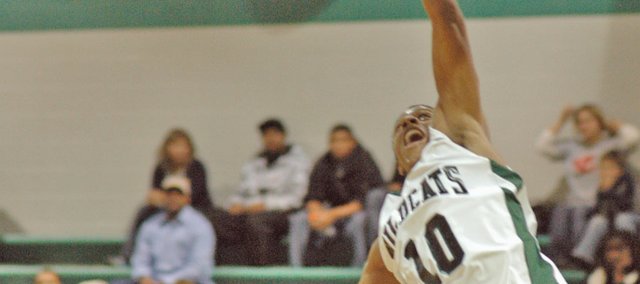 Watch De Soto junior Jamell Townsend play basketball and it becomes immediately clear in his 6-foot-1 frame are a number of qualities that make him a tremendous addition to the Wildcat basketball team.
There's the long arms - really long, long enough in fact to make Townsend a dynamic post player despite his average height.
There's the rebounding - Townsend is leading the team on the boards and it hasn't really been close.
There's the quickness - a fast first step and remarkably quick hands, coach Jim Bonar explained.
What really struck Bonar isn't just those obvious attributes, however. It's that despite Townsend's still in his first year in De Soto, after transfering from a smaller school in central Kansas, he's managed to mesh in with the school, the town and the team as if he'd been there since kindergarten.
"I've never had a transfer like this," Bonar said, pausing to think. "Nope - not one that blends in like this. Everyone at school, teachers love him, everyone just gets along with him."
Soft spoken and modest, its easy to see why the easy-going Townsend was quick to make friends. It's equally easy to see why Bonar was thrilled to immediately incorporate him into the Wildcat family.
Townsend pulled down nine rebounds to lead the team in a 76-45 win Dec. 21 in the team's last game before the winter break. Nine was actually a let down - he was averaging 12.5 a game before the trip to Garnett.
The term "long" as it is used to describe athletes is all the rage. Thus, after several more years and a few thousand more commentators labeling the Kevin Durants of the world as "long", it's a term sure to find its way to the sports syntax junk heap.
There may not ever be a better term for describing Townsend.
He's long - long in the arms, long in the legs, and he employs that asset to great benefit when working around the basket.
"You never see him rebound a ball at his chin," Bonar said. "He's always fully extended.
"He's a very heady kid. He's driven. He has the long arms, extremely good timing and there are just people who have a nose for where the basketball is going to come off he rim at."
So far, it's been a big help to the Wildcats, who seven games into the season already have as many wins (three) as they did all of last season.
Townsend's family came to De Soto when his dad opened a business in Kansas City. Originally from Salina, he spent the first two years of high school playing in the basketball-crazed town of Minneapolis, Kan., 25 miles north of Salina.
"Minneapolis has been a basketball town forever," he said. "Football wasn't really big. It was more of a way to get in shape for basketball."
Not that Townsend didn't find a way to help out the gridiron Cats, as well. He says Minneapolis helped him learn to make basketball his first love, but his athleticism was on display throughout the football season as well.
Townsend led the team in receptions with 12, receiving yards with 305 and touchdowns, with four. He became one of the team's top big play threats, a constant danger while working the sidelines and probing for the deep ball.
He said he's excited about the track season as well - another sport that will surely welcome him with open arms. Townsend scored in all four of his events at the state track meet last year. Competing for Class 2A Minneapolis, he was a part of first-place efforts in the 400- and 1,600-meter relays. He was second in the long jump and seventh in the triple jump.
His future as a college athlete will depend on which sport eventually opens the most doors. His size might make a future in football or track a more realistic possibility. It's all basketball right now, though.
"I've always been undersized for a post. Even in Minneapolis I was kind of undersized, so I had to have an attitude that I'm going to get every rebound," he said. "They always smashed it into my head that you have to get the rebounds before you get the points."
Townsend hasn't slacked at all in getting the points recently either. He had 13 in the game against Anderson County. He's averaging 14.1 per game, pouring in 19 in a Dec. 18 win against Tonganoxie, getting points off the dribble and pushing toward the rim, but most noticeably with his relentless attempts to put back misses.
"His scoring is much bigger than I thought it'd be," Bonar said. "Even in the first game (in a tournament) at Hays I was amazed to watch him play. We'd seen him practice, but that was against a lot of smaller bodies and kids who weren't as athletic. We didn't know how he'd match up, but he hasn't had any problems with anything that's been thrown at him so far."
Townsend hasn't had any problem fitting in - simply a joy, according to Bonar. His points have helped take the scoring pressure of the team's leading scorer, Andre Linzy. (Linzy and Townsend made quick friends in the offseason, a relationship that has easily translated to the court.)
But his presence has helped in larger ways, too. For one, it's helped free up senior forward Erik Hill. Hill was second on the team in points last year and plays like Townsend in that both are dedicated to the rebound.
"It definitely helps Andre and Erik. I'm sure Erik would always have the bigger players ganging on him and wearing him down, but now they'll have to switch back and forth," Bonar said. "That's two guys that are driven to rebound, so you'd better have two good rebounders to keep them off the boards.
"He also makes us more athletic and gives us better depth. If he's not here, we have two sophomores who are forced in to playing right now against a fast pace. It really gave them a little more time to develop."
All that, and he's easy to get along with. Maybe "long" isn't the only term. "Natural fit" seems to work alright as well.
More like this story