Wrestlers show improvement despite youth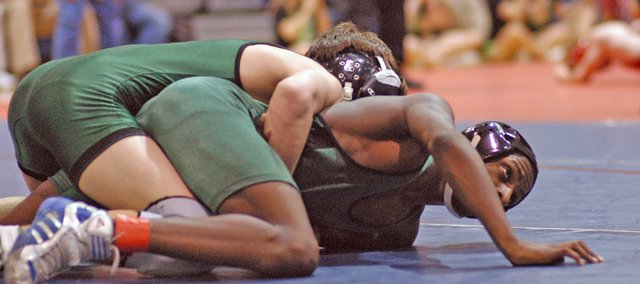 First-year head wrestling coach Shannon Sawner and assistant Jason Post made the approximately two-and-a-half hour trip to the state tournament in Salina in anticipation of what may lie ahead next year.
"We went down there to see what it's like," Sawner said, "because we anticipate taking some kids next year."
After being within one victory of qualifying two freshmen for state - 130-pounder Demitris Hall and 145-pounder Cameron Magdaleno - it is evident that the goal is not ungrounded or farfetched.
Hall finished the year with a 9-15 record, and Magdaleno finished at 8-16. Neither record causes one to raise an eyebrow but it was the improvement that those two and their teammates demonstrated that has Sawner looking ahead to next year.
"We have some guys with some talent. (Sophomore) Sammy Siebolt, (freshman) Brandon Vukas, I don't want to leave anybody out but we have some talent. Some of it is being a ninth or tenth-grader and being an underclassman and some of that is my fault, for not getting them to realize, 'You're better than you think you are.' Some of those things are the focus for next year."
With such a young team, finishing on a high note is something that Sawner saw as a positive because that late-season success can steamroll into more work in the off-season and more maturity for next year. He also helps it will increase his numbers after 19 kids made up the roster this year, 12 of whom were freshmen. There are 14 weight classes to fill in Kansas 4A action, so there is not a lot of room for weight adjustments with so few wrestlers on a roster.
"It's kind of hard to tell now, but I'll have to see how that affects some of the kids next year," Sawner said. "I hope that helps get more kids out next season. But this is a sport that is not for everybody and you would be surprised at who will come out and who will not last."
One thing that aides in participation is Kids Club wrestling, an organization that allows kids to participate in matches from the elementary school age to high school.
Sawner said next year's squad will have more members on the team who've taken part in Kids Club wrestling.
"We'll have several out that have experience, so hopefully that will help the program out," he said. "The more time you spend wrestling, the better you're going to be. Do you have to have it? Maybe not but it sure helps."
De Soto kids who want to wrestle in the summer can do so either through Mill Valley High School, which has a club wrestling team, or through De Soto High School.
The highlight of the 2007-2008 season was a third-place league tournament finish for Magdaleno, but he and Hall's success as freshmen at sub-state has Sawner most excited.
"If we keep that freshman group together, and if I can make them understand that if they stick together and are patient and work hard, success is going to come," Sawner said. "We have some athletes in that group and if you have a group with 11 seniors on it, you're going to compete, you just are."