Girls fall at Basehor-Linwood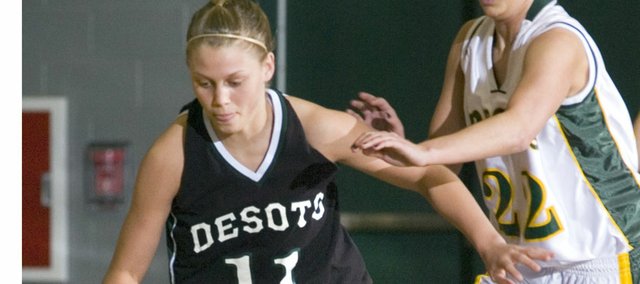 From the start of the game, both teams clearly stated their strategies: Basehor-Linwood began in a full-court press and pushed the ball up the court on offense at breakneck speed. De Soto, in contrast, packed all five defenders into the key and attempted to clog the middle. On offense, the Wildcats tried to slow the pace. The differences were stark, but it was the Lady Bobcat's size and speed, along with hot perimeter shooting, which allowed them to blow by the Wildcats, 66-36.
De Soto attempted to employ a zone defense against Basehor. The Bobcats perimeter shooting stifled that strategy.
"Basehor-Linwood is really good," De Soto coach Dwight Spencer said. "They are so strong because they have size inside that you have to help on and if you don't they will score every time. When you do that, they kick out, and if you don't get out on their 3-point shooters right away, they are going to nail them. We thought that there was a better chance of them not hitting their three-pointers than of them not hitting their lay-ups. We wanted to make them beat us from the three, and they did."
The Bobcats jumped quickly out of the gate, leading 14-2 midway through the first quarter. By halftime De Soto trailed 40-12.
"It was a great first half," Basehor coach Noah Simpson said. "40-12, to jump out on anyone like that, is a great first half. So I am extremely proud of them for that.
"I told the girls that you have to throw records out and understand that the season starts over," Basehor coach Noah Simpson said. "It's 0-0-you lose, you go home. I told them to try to stay focused for all 32 minutes. I told them I would apologize tomorrow if the score got out of hand, but that we were playing for Thursday and beyond that."
Basehor's pressure defense took De Soto out of their comfort zone and created turnovers. Shelbi Petty led the Wildcats with 11 points and Katie Williams added nine.
While sometimes given free reign from the perimeter, the BLHS guards knocked down many open opportunities. Point guard Brooke Sanders finished with 20 points. Michelle Chrisman had 12 points. By contrast, the usually highly productive interior duo of 6-foot-3 Cassie Lombardino and 5-foot-10 Courtney Hooks combined for only 14 points, with Lombardino collecting 12 of those.
"The team is realizing that even with having someone of Cassie's height and ability, it takes the entire team to win," Simpson said. "We illustrated to them that Michael Beasley scored 44 the other night and lost. We can't be a one-or two-dimensional team and win. We need a team full of players that can score and we are doing that. Instead of trying to force the issue, we play basketball."
Sanders said she and the other perimeter played looked to score more than usual with De Soto's zone defensive strategy.
"I think they make us shoot with the zone, and if we aren't shooting well then it works. But if we are shooting well, then they might as well not do it," Sanders said. "I know the other girls aren't afraid to shoot or take it to the basket. I mean, Cassie can't do it all, especially when they pack it in like that."
After trailing 40-12 at halftime, Basehor only outscored the Wildcats 26-24 in the second half.
Spencer was asked after the game how far he thought BLHS could go in the playoffs.
"It's tough to say," Spencer said. "Will they make it? You need a little bit of luck. It's a good district, it's a good sub-state. On any given night, I think those teams can play with them. If they are playing a five game series, I think Basehor probably wins three out of five and is a definitely favored to go to state. With a one and done deal, anything can happen. I wish them well, but they will have to come out ready every night. If they do that, they will have a good chance."