Expect surprises at De Soto Mr. Goodcents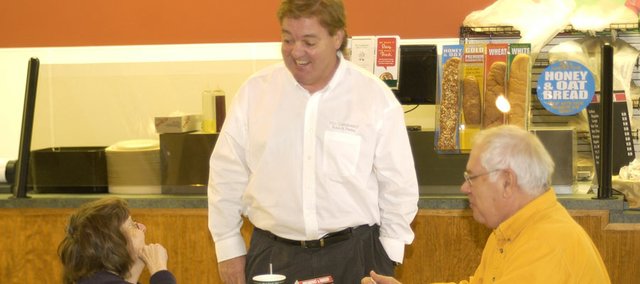 Joe Bisogno is inviting De Soto residents to participate in the decisions of his Mr. Goodcents Subs and Pasta franchise by visiting its new restaurant off 91st Street.
The De Soto Mr. Goodcents is an extension of the franchise's headquarters on Commerce Drive, Bisogno said. It offers the company the opportunity to field test new sandwiches and pastas, new technology, procedures and other innovations developed in the corporate offices and in its research and development kitchens.
Moreover, the De Soto site will give new franchise owners real world experience in a working restaurant, Bisogno said.
"We've been looking for space to do this for five years," he said.
The extension of R&D and training to the restaurant may make things go less smoothly than at established franchise sites, but Bisogno said the experience of trying testing new food items should be a treat for De Soto residents.
And Bisogno said Mr. Goodcents wanted to know what the De Soto store's customers think of the food and experience by filling out surveys provided.
The local restaurant is unique in the franchise because it is bigger, Bisogno said. He characterized its use of the added space as "chameleon" because rooms can be used for multiple purposes.
The De Soto restaurant is bigger than others in the franchise, which allowed the company to provide space beyond the customary dining area. The restaurant has two separate rooms that can be used for meetings during the day and private or children's parties during the evening.
Moreover, there is a separated and much more relaxed area off the dining area where customers can enjoy coffee and snacks on couches or armchairs. The relaxing environment also has Wi-Fi so those with wireless Internet connections on laptops can work from the site, Bisogno said.
Chameleon also applies to the food offered at the restaurant, Bisogno said. It will offer breakfast, lunch and dinners as well as a variety of desserts and treats.
"Our waffle ice cream has proved popular with high school students and parents since we've opened Monday," Bisogno said.
Baked goods also will be available at the restaurant, Bisogno said. Customers can expect fresh-baked rolls and buns on Fridays for weekend barbecues, he said.
More like this story