City recharges salt nearly depleted salt supply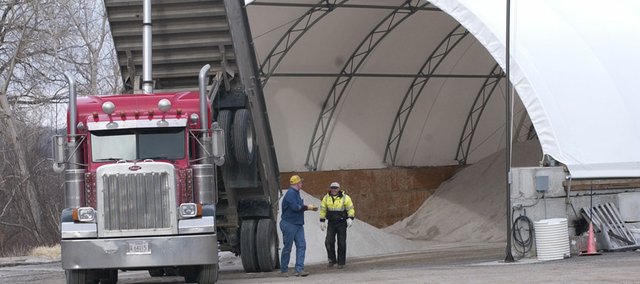 A seasonlong succession of winter storms almost left the city of De Soto with no salt to treat snow-packed or icy roads.
City streets supervisor Ron Creason said the city started with 500 tons of salt stowed in a shelter off Ottawa Street. That stockpile allowed the city to get much deeper in the season than many of its neighbors but the supply started to dwindle as snow and ice continued to fall through February.
But late last week, that supply had shrunk to what Creason estimated was 75 tons, or about what would be needed for one storm. Fortunately, snowfalls early Sunday and Tuesday mornings were meager enough they did not require treating the roads, he said.
Early last week, Creason called the city supplier about getting more salt delivered. It was a request that earned a good laugh from the person on the other side of the phone line who was dealing with the same request from multiple customers. Looking for insurance against more winter weather in March, Creason arranged for Betty Cannon Trucking to travel Tuesday to Hutchinson for three truckloads or 75 tons of additional salt.
The city has 55 miles of road or 110 lane miles that have to be plowed after a storm. Creason said the job starts on arterial roads like Lexington Avenue and 83rd Street. Once those are cleared, crews move to collector streets and finally to residential streets in the city's neighborhoods, he said.
The street department has six employees, four trucks, a maintainer (mostly used on the city's more rural roads) and a front-end loader to throw at the job, Creason said.
In addition to using a lot of salt, the street department has used a lot of man hours clearing streets and roads before and after storms, Creason said. As of Friday, the department has logged 210 overtime hours this year clearing streets, he said.
City Administrator Pat Guilfoyle said the overtime hasn't put stress on the street department's budget, which does assume overtime for winter street clearing. The many storms this season have been spaced far enough apart not to overly stress the city, he said.
The street department can also borrow employees from other departments to help clear snow, Guilfoyle said. There was however a storm between Christmas and New Year's when the street department was shorthanded because employees form all city departments were taking time off. That was the only time he heard complaints about the city's street clearing efforts, he said.
"I was not happy with that, myself," he said. "Other than that, I haven't heard many complaints. Quite the opposite. - we've had a lot of compliments."
With the succession of storms, came more maintenance, Creason said. But he said more work is on the way with multiple potholes appearing with each thaw.
"It's been a vicious cycle for the streets, especially 83rd Street going east," he said.
More like this story