Cats give Baldwin scare, come up short
Opening-round loss ends season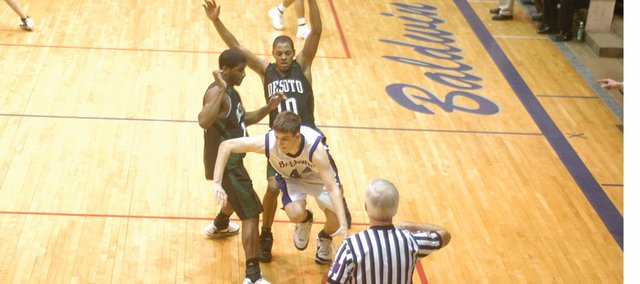 With the season in the balance, De Soto Wildcat senior Erik Hill toed the free-throw line as the Baldwin student section went into a frenzy. De Soto's basketball team trailed Baldwin 55-53.
Hill drilled both free throws, tying the game and momentarily saving the Wildcats' post-season hopes.
"I didn't feel any pressure," Hill said. "I block everything out. It felt really good to hit them for the team."
On the following possession, Baldwin was able to get an open look from within 10 feet of the basket, but the shot rimmed out and senior Andre Linzy came down with the rebound. But when he came down with the ball a Baldwin defender tied him up and the alternate possession arrow pointed Baldwin's way. With 28 seconds to play in the game, De Soto called a timeout to set up defensively.
Despite the defensive planning, Bulldogs ran senior guard Drew Berg off of a screen on the wing for a shot that hit nothing but net on a three pointer, giving Baldwin a 58-55 lead.
"He's a good spot-up shooter. We just got to get a hand in his face. Give the kid credit," coach Jim Bonar said. "But we called a timeout and set up exactly what they were going to do, we just didn't get it stopped."
On De Soto's ensuing possession, go-to man Linzy attempted a three that rimmed out and the Wildcats fouled to stop the clock with around 10 seconds to play.
But De Soto would not go away. After Berg stepped to the line and hit the second of two free throws, De Soto senior Brendon Hudson drilled a three from the top of the key to bring De Soto back to within one, 59-58 with 1.8 seconds to play.
Berg again handled the ball for Baldwin, and was fouled with .8 of a second to go.
After Berg missed both free throws, Hill grabbed the rebound and tried one, last desperation heave that would not go, and De Soto's season ended with a loss to the first seed in its sub-state.
"We were never worried. We did some things wrong," Bonar said. "The guys responded. It just came down to getting some stops, and we didn't get them I guess. The game came down to one or two plays that could have went either way, and they just didn't go our way tonight."
One strange play of the evening was a costly mistake for De Soto. Coming out of a timeout with four minutes and 47 seconds left in the second quarter, the Wildcats had six players on the court and were whistled for a technical foul.
"That's never happened since I've been here," Bonar said. "We're still talking about it. It cost us two points and a possession."
Linzy and Berg went at each other all night, both scoring 25 points to lead their teams. Hill added eight for De Soto.
After trailing 22-14 at halftime, De Soto turned the game around in the third quarter by implementing a full-court trap that gave Baldwin fits the rest of the night.
"We didn't use it on them last time, but we took a chance," Bonar said. "We wanted to do something to spark us and rattle them a little bit and, obviously it worked."
De Soto hit eight three-pointers on the night. With Linzy leading the way in the third quarter with three of those treys, De Soto took a 36-34 lead into the fourth quarter.
But after the final-quarter dramatics unfolded, De Soto was left with the agony of an early postseason defeat. But Bonar didn't regret the Wildcats choice of scheduling.
"I want to strengthen my schedule every chance I get. Everybody worries about wins and losses but everybody goes to sub-state," Bonar said. "We want to play against tough competition. We'll learn more there."
The Wildcats finished the year 10-11.
More like this story