Support system
Student scores improve due to state-led initiative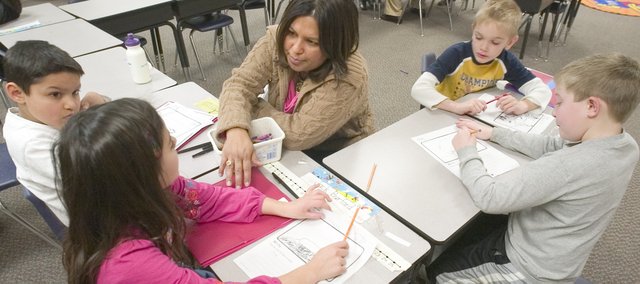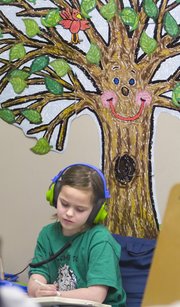 Shawnee Mission and De Soto schools are seeing dramatic increases in reading scores, thanks to a new approach to student evaluation.
Kathy McBride, second grade teacher at Mize Elementary School in De Soto USD 232, has seen the difference in her students from August 2007 to when they were most recently evaluated in January 2008.
"One student came in reading 20 words per minute and now that student is at 36 words per minute," McBride said. "Another went from 21 words per minute to 49 words per minute."
The approach is called Multi-Tiered System of Support and uses evidence-based practices to support a rapid response to academic and behavioral needs. Student data is frequently monitored and instructional approaches are adjusted for each student based on his or her needs.
MTSS is a state-led initiative formerly known as Response to Intervention. The addition of the behavioral aspect sets MTSS apart from RTI.
In the De Soto school district, buildings are expected to fully implement MTSS in the next three to five years, special services director Susan Sipe said.
Mize started using MTSS earlier this year and implemented it only for second grade reading.
"By doing it just in one grade level, we've really been able to tweak it and streamline it," McBride said.
There are five second-grade classes at Mize, however not all students stay with their classroom teacher for reading. Instead, each second-grade teacher works with students grouped based on their reading level. McBride works with students who are struggling with reading, so in her classroom she has special education teachers and paraprofessionals come in to work with smaller groups of no more than five or six students.
"They provide the one-on-one instruction that those kids need," McBride said.
Splitting reading groups in this way not only has benefited the students who are struggling, but also the students who are advanced readers, McBride said.
"Kids who normally we didn't have the time to put all the effort into, because we were working with struggling students, are just blowing it out of the water," she said.
The reading groups also cut back on the amount of plan time for teachers because each teacher now plans just for a specific reading level, McBride said.
"Historically like last year I had seven reading groups," she said. "I was always having to find activities and things to fill those holes when I wasn't working with a group. Now you can really focus in on certain specific skills and levels. Planning becomes more efficient, working smarter not harder."
Students also are not missing any of their other core curriculum areas because they are pulled from the classroom to work specifically on reading, McBride said. The groups also help student's confidence.
"Everybody that's in here working is all really close on reading levels," she said. "There is no competition."
Shawnee Mission USD 512 started using MTSS in 2005 at Dorothy Moody Elementary School in Overland Park. MTSS was implemented in 2006 at Rhein Benninghoven Elementary School in Shawnee.
Both schools started out with a focus on reading. Shawnee Mission plans to implement MTSS in all schools starting next year.
"It's not a program, curriculum, intervention or a strategy," said Gillian Chapman, associate superintendent of educational services. "It's for all students."
Chapman said the Shawnee Mission schools are focusing on the reading and behavioral aspects of MTSS now, and will work on math eventually. She said quickly assessing where a student is at in math skills is difficult now because there has not been a proven way to provide a quick, accurate analysis on where improvements are needed.
Officials from both districts said MTSS is not something that will look the same in each district, or even in each school building. It is based on the resources available at each building, Chapman said.
So far, De Soto is keeping its focus on reading, Sipe said.
"If you can envision a three-dimensional pyramid," she said. "On one face would be reading, one face would be math and one face would be behavior. We feel like that is a big chunk to tackle at one time, that's why we are focusing on reading. I think the faces of the pyramid will probably be district initiatives and we will start working on them all together."
In Shawnee Mission, data already shows that MTSS is working. Before it was implemented, student reading levels in kindergarten through second grades were flat during the three times they were tested in one year. However, data for the 2006-07 school year shows that students who were in the 14 schools that implemented MTSS were moving up from the lowest level, called intensive to the middle level, strategic. They also were moving from the strategic level to where students in the grade level should be, called benchmark. The trend can be seen in data from the 2007-08 school year as well, even though data has not been collected for the spring. In fall 2007 57 percent of students in grades kindergarten through second were at benchmark. When students were tested again in winter 2008, 69 percent were at benchmark.
"This is incredible growth in a short amount of time," Chapman said.
Sipe said De Soto does not yet have districtwide data as it just started implementing MTSS this year. However, Mize data shows improvements.
About 13 weeks after implementing the program, 88 percent of second-grade students were reading at or above expectations and 12 percent were reading below grade level.
"As the MTSS process is defined and refined as we move through it we are going to get better data that shows exactly what the skill level of the student is and we will be able to tailor our resources," Sipe said.
More like this story