Public hearing Tuesday on downtown overlay district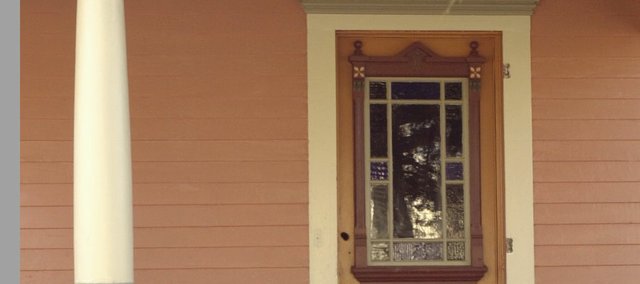 Residents and property owners in De Soto's downtown are invited to make comment Tuesday on what is being called the downtown overlay district at the De Soto Planning Commission.
The process to create the overlay district started when it was discovered the city building regulations didn't conform to what the city hoped to accomplish with the recently completed downtown revitalization plan. That plan completed by consultant Marty Shukert and adopted early last year lays a blueprint for the expansion of residential and commercial investment in the historical core of De Soto, essentially that part of the city east of Kickapoo Street and the Sunflower railroad tracks between the Kansas River and Kill Creek.
Soon after that plan was adopted, Bob Power's plan to renovate a residence on 83rd Street into offices for his construction company made clear the discrepancy between the revitalization plan's goals and city regulations, which where created with green-field development in mind.
In its seven pages, the draft overlay district will be considered by the De Soto Planning Commission at its 7 p.m. meeting Tuesday at City Hall. The public hearing on the overlay district will be the first item on the agenda.
The overlay district seeks to relax city regulations so that renovations or new construction such as Power is undertaking doesn't have to conform to requirements that would be out of character with the neighborhood by paving back lawns to acquire a needed number of parking spots or build 8-foot fencing to screen the upgraded property.
In addition to parking and fencing, the overlay would relax regulations in the downtown district on the minimum area for lots, setbacks, density, bulk (size of buildings), landscaping and drainage.
Moreover, those projects proposed for the district involving more than one lot or for a site larger than 1 acre will be considered as planned development zoning.
For at least its first year, it is proposed an application for one lot smaller than an acre would be considered by the planning commission as a site plan. Planning commissioners agreed in December that once the scope of activity was gauged, the planning commission review might be dropped and such smaller proposals be reviewed only by city staff.
One final component of the overlay district is proposed density bonuses for developers contributing to the city's capital improvement plan. It is proposed, developers could cover an additional 25 percent of a site if they contributed to the CIP as approved by the De Soto City Council. Shukert's downtown revitalization plan envisioned a number of public upgrades, including decorative lighting, a small town square and a central processional boulevard.
When the overlay district was discussed at a De Soto City Council meeting earlier this month, Mayor Dave Anderson asked that the commercial activity the plan would allow in the entire district be limited. Although the council agreed that was needed, there was no decision on where commercial development or redevelopment of current residential stock should be encouraged. It was agreed, however, that activity should be allowed on 83rd and Ottawa Streets and Lexington Avenue.
Anderson also advocated a mechanism of architectural review of projects within the district. Although he said he didn't want to add costs to developers, the district shouldn't become dominated by unattractive homes and businesses.
However, it was agreed such a measure would require additional work and another public hearing. Any architectural review would be created after the overlay district is approved.
More like this story