Northern exposure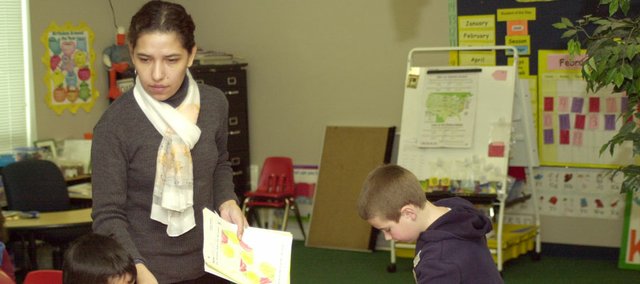 Maria Elena Villalba had never seen snow before coming to the United States.
Now that she is about to head back to her home of Encarnación, Paraguay, she can't wait to say goodbye to the cold Kansas winter.
Villalba has been in De Soto for about four weeks as part of Partners of the Americas, a people-to-people organization that links states with Latin American and Caribbean countries. Kansas is partnered with Paraguay. Villalba stayed with Vergie and Doug Opdycke, who were her host family.
Villalba is a history and English teacher and came to the United States to learn and observe other teaching practices and to brush up on her English skills.
"The main thing for us coming here is to observe the classes and to see their technique and how teachers interact with students," she said.
Weather in Encarnación is hot in the summer, reaching 100 degrees often and it is summertime in Paraguay now. On the coldest winter days, temperatures are in the 30s, Villalba said.
"I came with two coats," she said. "They are the warmest coats I have in Paraguay. The first thing Vergie said is 'No I think that will not be enough,' and she gave me one of her coats to wear."
Vergie said she tried once to convince Villalba to go sledding, but Villalba wasn't interested.
"It was too cold," she said.
Vergie said she found out about Partners of the Americas after she met another Paraguayan woman who was in the program a few years ago.
"Two years ago Liza Ayala was here not with us, but with a friend of mine in Kansas City who teaches Spanish at one of the Shawnee Mission Schools," she said. "She told me about her guest and asked if Liza could spend the night with us."
Vergie and Doug then became interested in hosting a visitor of their own and signed up to be a host family.
Villalba mostly has visited middle and high school English, Spanish and history classes.
In each class she did a presentation and talked about herself and her country, and the students asked her questions like if there were McDonalds in Paraguay and what her opinions were of President George Bush.
The biggest differences she noticed were in the elementary classrooms.
"They have small classes, and they work in small groups," Villalba said. "All of the schools where I've been they have a lot of resources, the structures, the buildings. In Paraguay, we have to work with big classes of 35 to 40 students."
There are more similarities than differences, Villalba said.
"They behave just like the students in Paraguay," she said. "They stand around and talk in the hallways. They are in to the same things."
The teachers in Partners of the Americas program pay for their airline tickets and the host family takes care of the cost of food and any activities.
The Opdyckes have made sure that Villalba has seen the sights, taking her to the Kansas History Museum and the Flint Hills. They even bought her a copy of "The Wizard of Oz," which she had heard of but had never seen before coming to Kansas.
"We've joked a lot that when she gets home she can say 'I don't think we're in Kansas anymore,'" Vergie said with a chuckle.
Villalba is headed back to Paraguay this week, as the first day of her school year is Monday. She said she plans to keep in contact with the Opdyckes and she wants to come back to Kansas.
"I would really like to come back, but in the spring or summer," she said.
More like this story