Pianists to compete at state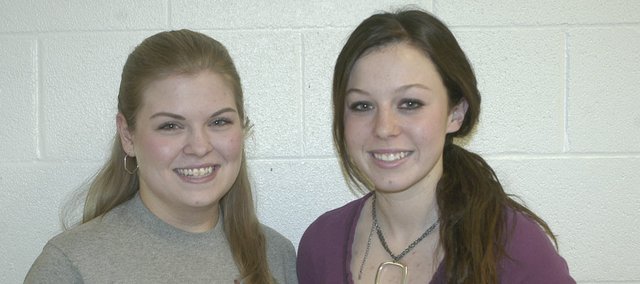 Two De Soto High School students will head to Wichita State University Saturday for the state piano competition.
Senior Trisha Roberts and junior Ashley Sweeney both received I ratings at the regional contest, qualifying them for state.
The girls had to memorize their performance pieces, which were to be about seven minutes long.
"I've been working on mine since May of last year," Ashley said. "I've played it so many times I could probably play it with my eyes closed."
Ashley will play Impromptu in E Flat by Shubert, and Trisha will play Sonatina in C Major by Kuhlau.
Both girls picked their pieces with the help of choral director Mary Etta Copeland, from whom both of them take lessons.
Trisha has been taking lessons from Copeland since she was 5 years old. Ashley has played for 10 years and has taken lessons from Copeland for two years.
Ashley said she is most nervous about the competition this weekend because it is in front of a large audience.
"When you get done, you finally breathe in and it's like I haven't taken a breath in six minutes," she said.
Although both girls have played piano for years, it has become more than a lesson.
"Now it's almost like an outlet," Trisha said. "It's more than an obligation."
Ashley agreed.
"My mom always knows what mood I'm in by what song I play or how loud I play," she said.
Despite their talents, the students aren't completely sold on studying music in college.
"Right now I'm not really sure, but there is always that possibility," she said. "I've applied to Stanford, Berkeley and the University of Wisconsin-Madison."
Ashley said she plans on pursuing medicine, not music.
"I won't do anything official in music," she said. "I might take a music class but that would be it."
More like this story