Loss offers Cats few highlights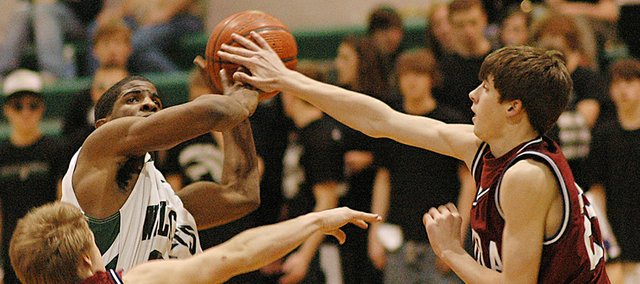 It didn't seem it could get much worse Tuesday for the De Soto girls basketball team. The Cats game against Kansas Highway 10 rival Eudora was long since over, though nearly three minutes remained in the eventual 50-17 loss, the team's most listless performance in an already long and rough season.
Then it did get a little worse.
De Soto junior Amber Laudick stood with the ball, patiently waiting near the three-point line. When a lane finally opened, she whipped a pass in toward the paint, near the free throw line, then followed a moment later, cutting underneath the Cardinals zone defense to receive a quick return pass with an open lane toward the basket.
She had a clean shot at the basket and took a measured shot, not a rushed or panicked lob like the team had let loose earlier in the game. It missed, caroming off the rim. Laudick did give up and muscled her way through the crowd to grab the rebound. She reached back, now nearly under the basket, and fired up another attempt.
Her second try didn't carom off anything. It stuck, instead, stuck hard, wedged between the rim and the backboard.
Turnover. Laudick started to throw her arms up, possibly in protest but probably in disbelief. Finally, she just rolled her eyes noisily, spun on her heels and started back down the court.
What else was left to do? De Soto played poorly and without energy against a good Class 4A team. Even considering all that, it was a take-a-good-shot, squeeze-the-ball-behind-the-rim kind of night for the Wildcats.
"We weren't ready to play," De Soto coach Dwight Spencer said. "It's my fault.
The game was De Soto's 14th loss of the season, but came after a period in which the team had been playing better - it beat Atchison, upset Baldwin and took good teams in Rossville, Louisburg and Spring Hill to the wire.
"We haven't had stretches like that," Spencer said of the Eudora game. "We just weren't ready to play.
"We'll get back to work (Wednesday), then work on it again Thursday and get better."
Eudora, which beat De Soto 52-34 in January, did a much more thorough job Tuesday. The Cardinals, 13-4, pressed throughout the first half, helping rack up a 19-4 lead after the first quarter and a 25-9 advantage at the half.
Eudora then won the third quarter, 19-1.
De Soto's Katie Williams scored two first quarter baskets and the team's only third-quarter point. Fellow sophomore Tami Crow also had five points.
"We didn't go real hard in practice (Monday night). Maybe we needed to go hard," Spencer said. "We worked on things I thought would work and we didn't even look for it. We looked at film and showed where we might be able to do things, and again we didn't look for it.
"For whatever reason we weren't ready to play basketball, and that's my fault."
Tuesday's debacle came after what Spencer said was a more successful game against Ottawa. The Cats still lost, falling to the Cyclones 61-39, but played well in the first half. The game was close at halftime before Ottawa opened it up in the second half, expanding the lead to nine by the end of the third quarter and 23 late in the game.
"When you look back against Ottawa, we played pretty well for the first three quarters," Spencer said. "We lost the fourth by 13. That's one of the more talented teams we've played, too."
For now, the team simply plans on getting the rotten taste of Tuesday's game out of its mouth. The Cats return to the court Friday as they travel to play Gardner Edgerton.
"We're going to make sure the team wants to play our last three or four games," Spencer said. "We have to. I can't sit through this again. We'll come out ready Friday."
More like this story