Course correction
Wildcat boys hope snapping three-game skid brings back best of times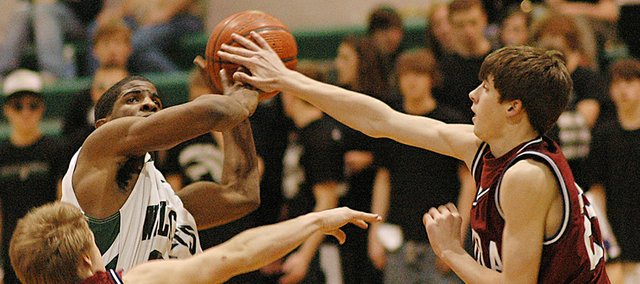 The tangible proof came Tuesday. De Soto beat Eudora for the second time this season, this time protecting its home floor, maintaining a buzzer-to-buzzer lead to hold off the Cardinals, 57-48.
De Soto coach Jim Bonar said it happened Friday, however. The Wildcats lost to Ottawa 56-54, a pair of potential game-tying shots clanging off the rim in the game's final seconds. Still, Bonar insisted: that's where the Cats ditched their early February funk.
"The Ottawa game was a big boost for us," Bonar said. "We played well. That's a lot easier to walk away from than some of our other losses."
It wasn't a pretty start to the month for the Wildcats. De Soto dropped back-to-back games, falling to Louisburg, then Spring Hill. It was the team's first such slide since it returned from a season opening tournament in Hays, an eight-team soiree stocked with elite Class 5A and 6A teams.
All looked better Tuesday as De Soto beat Eudora. The Wildcats won their third consecutive game over the Cardinals, winning a double-overtime game in De Soto last year, and another double-overtime game in January.
The Cats used hot three-point shooting to get ahead early, then did just enough through the middle part of the game to stay on top.
"We got ahead early and just didn't ever feel like we were going to give the lead up," Crow said. "We all shot really well. I felt really good at the beginning."
Crow was a big part of De Soto's quick start. He hit a trey for a 5-0 lead early in the first quarter, and then added another for a 30-20 advantage late in the second.
Senior Andre Linzy, who led the Cats with 15, junior Tommy Elmer and senior Brendon Hudson all added three-point bombs between Crow's bookends.
De Soto led by as many as 12 in the first half, but Eudora closed the gap in the second. Eudora sophomore Justin Ballock led all scorers with 18 points and led a charge that narrowed De Soto's lead to four early in the third quarter, then two in the fourth.
"Eudora did a good job stagnating our offense," Bonar said. "Ballock got some points working hard on offensive rebounds and got a few cutting down with good passes from his teammates. We tried to make him more of a focal point, just to try and get a hand in his face."
Linzy, with substantial help from senior Erik Hill, put the game away - he cut through the entire Cardinal team, driving from the top of the key for a layup with 2 minutes, 42 seconds remaining.
Hill hit a three-pointer, then sank a shot, drew a foul and made the free throw to help hold in the lead in the third quarter. He, Crow and Jamell Townsend all finished with eight points, Hudson adding nine.
Still, Bonar said Tuesday's momentum was rooted in Friday's close call against Ottawa.
De Soto added only four points in the second quarter, letting a 15-11 lead slip away, but battled back on the strength of Townsend's team-high 20 points.
Townsend put a Linzy miss back to cut the deficit to three points with 19 seconds remaining. Ottawa added one free throw before Hudson cut it to one, bombing in a three-point shot on an assist from Elmer.
The Cyclones added one final free throw and the Cats had two tries at tying the game. Both shots missed, however, dropping De Soto temporarily one game below .500.
"We played hard and it came down to the final moments," Crow said. "We weren't doing anything with the ball (in the Louisburg and Spring Hill losses), but now we're getting the ball and getting down the floor better.
"The whole season could have gone down hill, but Bonar is working us hard. Hopefully we can keep it up Friday."
The Cats will put their newfound progress to the test Friday as they travel to play Gardner Edgerton. De Soto will be looking for revenge after the Trailblazers won the season's first meeting, 55-49, last month.
More like this story